BATTLE WON: Marquette Tops Esky For Regional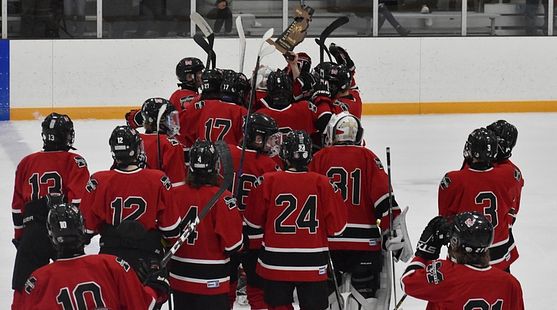 WELLS---The Marquette High School hockey team scored the first five goals of the game and held off a late Escanaba Eskymos charge to win the MHSAA Division Two regional championship, 5-3, at the Wells Sports Complex.

Freshman Jake Garrow and senior Lucas Guertin both had two goals for Marquette.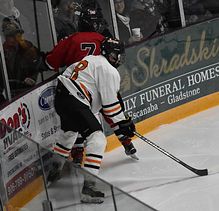 Senior Kyle Krutina scored all three goals for Escanaba, all in the final 5:36 of the game.

"You don't get many opportunities to win championships, and when you get the opportunities, you've got to take advantage of them," Marquette Coach Doug Garrow said. "We had a chance to get the league championship and we went up to Hancock and didn't get the job done. I thought our guys did a pretty good job tonight of really focusing early on, and building that lead. It was nice to see. But it's a 24-hour rule. We'll enjoy it until tomorrow's practice, and then we'll get after it and get ready for Saturday."

That will be a state quarterfinal game against Traverse City Central in Gaylord.

Garrow watched as his kid, a freshman, scored 45 seconds into the game, and then he scored again five minutes later, putting Escanaba in a 2-0 hole.

"I'm very happy for him," Coach/Father Garrow said. "He's worked hard all year as a freshman. Sometimes, being the coach's son, I'm harder on him than I am on a lot of the kids on the team because I don't want to show favortism."


Marquette completely dominated the first period, outshooting Escanaba, 16-1, peppering Eskymo senior goaltender Trevor Denome with shot after shot after shot. As he has for much of his three-year Eskymo career, Denome held the fort.

"Trevor made some big saves when he needed to, and not only in the first period, but throughout the game," Escanaba Coach Matt Hughes said. "There was times where we turned over the puck in some bad spots and Trevor was able to bail us out."

Early in the second period, though, the Eskymos put pressure on the Redmen, getting four shots on goal that freshman goalie Liam Beerman made the saves on. One, in particular, on Eskymo captain Ethan Silverstone, was from point blank range. Coach Garrow was upset, and used his time out nine minutes into the second period.

"I just didn't like the feel on the bench," Garrow said. "I didn't like the momentum. I didn't like a lot of things and I was getting a little upset over there. We were trying to complicate the game instead of keeping it simple. I just wanted to take the time out and remind the guys why we got the lead."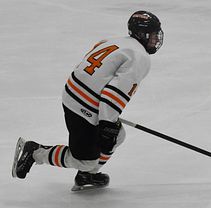 It worked. Off the draw, Guertin bounced one toward the net that reidrected past Denome, and seconds later, Evan Kroll made a nice pass from the corner to Cole Ranta for a blast between the circles. All of a sudden, it was a 4-0 game.

"That was a smart play by them," Hughes said. "But I think it's the hardest we've played them all year (6-1 and 7-1 losses), so that's a good thing."

Marquette scored again in the third period on Guertin's second goal before the huge Eskymo crowd got something to cheer about.

It came from one of the quietest kids in the school, Krutina, as he broke the shutout at gthe 11:24 mark, and then off the face-off, scored again just eight seconds later, making it a 5-2 game.

The most impressive goal came with 38 seconds left in the game as Krutina got a turnover at center ice and skated up the left wing. He drove on the defenseman and worked it to the front of the net where he beat Beerman for his natural hat trick.

"You've got to commend a kid liek Kyle who comes in his senior year and works his tail off the entire year," Hughes said. "It just goes to show you, with one minute left in the game, he's still working the same as he did at the beginning of the year. It didn't matter to him (the score), he just wanted to work hard and finish strong."

Marquette improved to 23-4-0 on the season after outshooting Escanaba, 29-11.

The Eskymos finished a season that included nine brand new players on the roster with a 14-12-0 record.

Click the thumbnails in the ARTICLE HIGHLIGHTS box above to see photos and videos taken by Micky LaMarch. Also, click to hear comments from both coaches, and Brayden Sundquist's player spotlight interview.