Six Redmen, Esky's Silverstone Named D2 All-State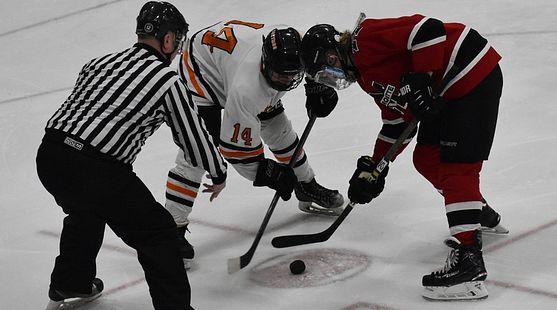 PLYMOUTH, Mich.---The Michigan High School Hockey Coaches Association has released its All-State hockey teams for the 2019-2020 season. This in the wake of the postponement of the MHSAA Final Four because of the coronavirus outbreak.

The Marquette Redmen had six members of the Division Two All-State teams and the Escanaba Eskymos had one.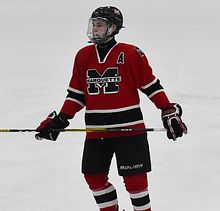 Marquette forward Gaetanno Cammarata and defenseman Jakob Peterson were named to the First Team. Freshman goaltender Liam Beerman was also a First Team All-Stater.
Peterson, a 6-foot-1, 165-pound senior, led the Redmen with 40 points (13 goals, 27 assists).

"I didn't play my sophomore year, and I regret that," Peterson said. "The last two years have been the best two years of my life. Going to the rink, day after day, with my buddies, is something I will never forget. Just working hard every day, and it (All-State honors) came with it. We had great coaching here, and everything was just really good. It sucks to say it's over, but I'm happy I got All-State, and happy I got to play for the Marquette Redmen."

Cammarata had 18 goals, 19 assists, for 27 points. Beerman had a 14-1-0 record in net for the Redmen, with a 1.33 goals against average and .938 saves percentage.
Escanaba's captain, Ethan Silverstone, was named to the D2 All-State Second Team.

"I was very surprised," Silverstone said. "When Coach Hughes texted me, I thought he was referring to something about football. When he said it was about hockey, I was quite surprised."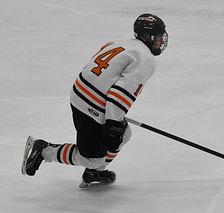 Silverstone scored 50 points this season for the Eskymos, with 19 goals and 31 assists. His best game was on Dec. 9 against Sault Ste, Marie, when he scored both a hat trick and a playmaker: three goals and three assists. He also had a five-point game against Hancock on Dec. 20, scoring three goals and adding two assists.

And on Feb. 4, in a win over Negaunee, Silverstone had two goals and five assists, for an astounding seven points.

He says he badly sprained his wrist during the Eskymos' overtime loss to Kingsford midway through the season, and played the final 15 games with that injury.

"Everybody thought I broke it," Silverstone said. "I thought I broke it, but when I went to the hospital, it was just a really bad sprain. I had to change my shot and I couldn't stick-handle as much. I couldn't pass very hard. It was pretty difficult, but I worked through it, I guess."

Silverstone was part of a top line that led the Eskymos all season long as the otherwise-young team finished with a winning record at 14-12-0.

Linemate and fellow senior Kyle Krutina had 27 goals and 19 assists for 46 points, and Karson Krutina had 13 goals and 15 assists for 28 points.


Escanaba finished as regional runners-up.

"It was my fourth year on the team, and it was our best record," Silverstone said. "There were a lot of young guys, but there was a lot of growth this year, and I think the next coming years, it's going to be a great team."

Marquette forwards Cooper Anderson and Ansel Frost, defenseman Andrew Fedrizzi, were Honorable Mention selections.

Marquette went 24-4-0 this season and advanced to the MHSAA State Semifinals against Birmingham Brother Rice. That game was called off less than five hours before face-off because of the coronavirus, and the team boarded the bus and came home empty-handed.

"It's unfortunate," Peterson said. "Throughout that day, we saw everything else being suspended, and when we got back to the hotel, (Coach) Doug (Garrow) gave us our All-State awards and it was really hard for us graduating seniors. Knowing that we don't get a chance to come back and get another chance at this next year really sucks. It was really hard for all of us."

Technically, the MHSAA has not cancelled the game, calling it a "postponement".
Peterson, however, knows the reality of the situation with the virus still spreading and school being cancelled for at least three weeks. The Redmen had their final skate together as a team on Sunday.

"We're hoping for it, that maybe they can put it back on in a month or something."

Click the thumbnails in the ARTICLE HIGHLIGHTS box above to hear interviews with both Peterson and Silverstone, and to see photos.