BIG BRIT MAKES BIG MOVE: Alexander Goes D-1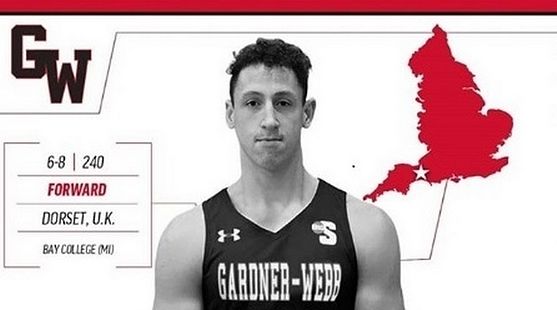 ESCANABA---From the moment he came to America from across the Atlantic Ocean from Great Britain two years ago, Christian Alexander has had one dream: to play NCAA Division One college basketball.

That dream became a reality as Alexander signed a National Letter of Intent to attend school and play ball at Gardner-Webb University in North Carolina.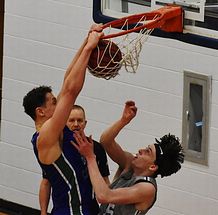 After a solid sophomore season that saw him earn NJCAA All-Region honors, the 6-foot-8, 240-pound Alexander fielded many calls from colleges of all sizes.

Finally, the call came from a D-1 school.

"Gardner-Webb contacted me via phone and we just hit it off well," Alexander said. "They contacted (Bay) Coach (Matt) Johnson as well. They saw some of my tape, and they liked what they see, and you know, it just kind of went from there."

"It's definitely a weight lifted off of my shoulders. It took a lot to get there. It's a lot of work that a lot of people don't see. Early mornings, late nights. It's hard to describe. You wake up at 4:30 in the morning and you finish (training, practicing) at 11, 12 at night. It's an every day thing."

The Runnin' Bulldogs are a member of the Big South Conference, and the school made the NCAA "March Madness" Tournament in 2019, and had the lead over top-seeded Virginia, 36-30, at hlaftime, before losing, 71-56. Virginia went on to win the national title.

Gardner-Webb was 16-16 in the 2020 season before the coronavirus ended play.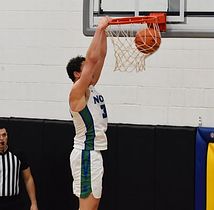 Alexander had averages of 13.6 points and 9.6 rebounds per game this past season for the Norse.

He shot 61.7 percent from the floor, which was ranked 13th nationally, and scored 20 or more points in six different games.

He posted 11 double-doubles on the season and ranked in the top-20 nationally in offensive rebounds (16th) and total rebounds (17th).

"Christian fills an important role for us by adding depth in the post," Gardner-Webb Head Coach Tim Craft said. "He is a physical big who can step in and play some minutes for us. His athleticism and rebounding ability should translate to this level of basketball and we are excited to add him to the class."

Alexander knows he has to step up his game even more to go from JUCO ball to NCAA Division One basketball.

"The transition of coming from England, to come to America, at first, playing JUCO, is a lot quicker," Alexander said. "I just feel like that speed is going to increase going to the Division One level. I feel like I'll have to get used to the game again. I need to improve on a lot of my shot-creative stuff, my ball handling stuff, which I know will come."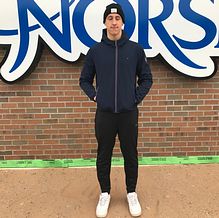 And where has he improved the most in the past year?

"I think this year, for sure, my overall dominance has improved, just being an overall threat, in the post, wherever I am when I catch the ball, and that has translated into double teams and triple teams," Alexander said. "That gave my teammates a chance to get some open looks."

Bay College Coach Matt Johnson says that Alexander's dedication and work ethic are his biggest qualities.

"I couldn't be more excited for Christian," Johnson said. "He has worked incredibly hard the past two years to put himself in this position. To play at the division one level is an awesome achievement. Gardner-Webb is getting a great young man."

Alexander is still in Escanaba, on the Bay College campus. But because of the coronavirus pandemic, he's finishing up his Bay classes on-line, literally just down the road from where he would normally be the tallest guy in his classes.

Just down the road from the place where he electrified the U.P. crowds with emphatic slam dunk after slam dunk.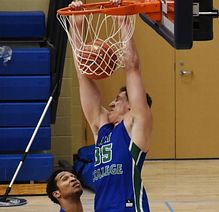 And for a young man who's used to spending the vast majority of his waking hours shooting in the gym, working out in the wight room, or doing other training, this coronavirus pandemic is tough.

The YMCA is off-limits, local fitness clubs closed, by Michigan Governor Gretchen Whitmer's executive orders that have been in place since mid-March.

Alexander, though, is grateful. He knows it could be a lot worse, with people in his home country under weeks of an intense lockdown.

His country's prime minister was badly sickened by COVID-19 and his since recovered. But Alexander is here, in a place with only 13 confirmed positive cases.

"I'm still working out," Alexander said. "I'm playing basketball outside, doing ball-handling drills. I'm running. I'm doing body weight exercises. From a mentality standpoint, I'm still blessed. I know I've got a lot of things going for me. I've got a roof over my head, a lot more than other people have in this kind of situation. So, I'm not complaining at all."

Maybe, just maybe, the Gardner-Webb Runnin' Bulldogs will make the NCAA Big Dance again in 2021. Maybe, they'll not only have the lead at halftime, but this time, they'll shock a top seeded team on national television. And maybe, the Big Brit, from Dorset by way of Escanaba, will have his moment on the biggest of stages.

Click the thumbnails in the ARTICLE HIGHLIGHTS box above to see Alexander's highlight film, see photos, and listen to his radio interview.