NOT DONE YET: Dalgord To Suit Up For Finlandia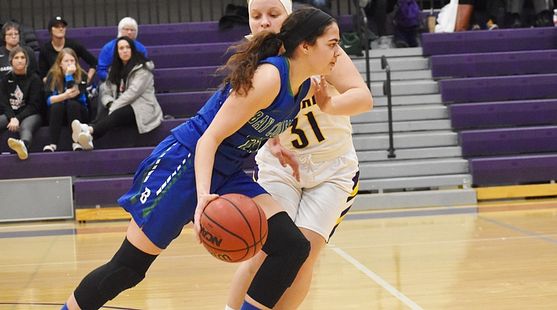 GARDEN---Brooke Dalgord will continue to play basketball in the Upper Peninsula this fall, and she'll do it relatively close to home. Less than a week after graduating from Bay College, Dalgord on Tuesday signed to continue her education and athletic career at Finlandia University in Hancock.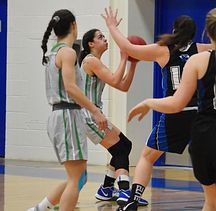 "I'm really excited to be playing for Coach Mariah (Dunham) up there next year," Dalgord said. "I knew she's a great coach and she has a really good group of girls right now. I'm just excited to meet them all and start playing together."

"I am so excited to have Brooke apart of our family," Finlandia Head Coach Mariah Dunham said. "She is super athletic and provides us with experience in a vast amount of positions on the court. Brooke will be a great fit for what we are trying to do for this next season."

The road to an NCAA-III school has not been an easy one for Dalgord. She comes from one of Michigan's tiniest schools, Big Bay de Noc. Dalgord became the ninth Big Bay player to score 1,000 points there in 2018, despite a torn ACL during her junior season.

"That was a really, really long recovery," Dalgord said. "I didn't get back into it until a week before my senior season."

She was still able to be recruited at Bay College, where she just finished her second and final season back in February. But the injury bug followed her to Escanaba as well, with another knee injury landing her on the bench, including the night when the Norse went to the Keweenaw to play Finlandia.


"This time, it (recovery) wasn't as long, about two or three weeks," Dalgord said. "But it definitely set me back for playoffs. I think that I started to get more aggressive. I was still kind of worried about injuring myself again, but then I kind of overcame that, and I figured 'if I'm gonna get hurt, I'm gonna get hurt."

"So, I might as well go out there, be aggressive, get to the basket, rebound as much as I can. I think I improved a lot on defense, too."

Dalgord averaged 6.3 points and 4.3 rebounds a game in 2019-20 at Bay. She shot 81% from the free throw line career, and was a presence inside the paint for the Norse. She says she wants to build on that success as she steps up a level.

"I think I still, obviously, need to work on me defense a lot," Dalgord said. "I'm going to keep trying to be aggressive going to the basket, improve my shooting a little bit, and then make sure that I have better vision on the court."

She credits former Norse Coach Rob Robinson for much of her success. Robinson was her coach for both years at Bay until he was abruptly let go just before the end of the 2019-20 regular season.

"Coach Rob was by far the best coach that I ever had," Dalgord said. "I wouldn't have been able to do it without him, or any of the girls the past few years. They all pushed me to my absolute hardest, and there was so much competition. You couldn't lay off any day, or else you weren't going to get any playing time."

Dalgord will be studying physical therapy at Finn-U.

"I think it's good fit because of all of the injuries I've had," she laughed.

Click the thumbnails in the ARTICLE HIGHLIGHTS box above to see Dalgord's highlight film, photos, and hear her radio interview.