RIVALS NO MORE: Two Yoopers Going To Olivet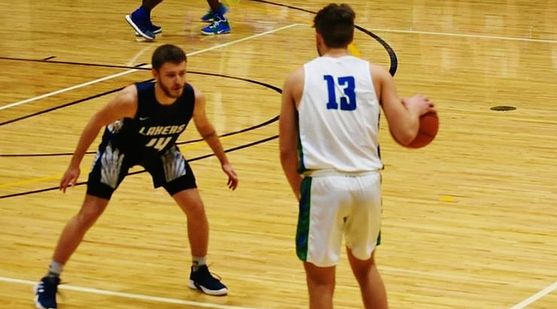 They've been buddies and rivals for years, both on and on the basketball court.

Now, the Upper Peninsula's Ryan Robinette and Dre Tuominen will be teammates.

The two both announced Monday that they have both committed to continue their education and basketball careers at Olivet College, an NCAA Division Three school in Lower Michigan.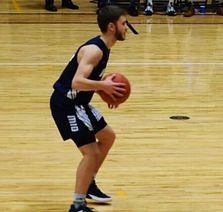 Tuominen is a 2017 Negaunee High School graduate, who played for Bay College in the 2017-18 season, took a year off from basketball, then played for Mid-Michigan in Mount Pleasant last year.

"Their coach (Sam Hargraves) was very persistent in recruiting me throughout the year," Tuominen said Monday from Mt. Pleasant, where he is currently employed.

"It meant a lot to me that he was persistent, because there was a lot of coaches that reached out that were kind of like on the fence, like, we've got a spot for you if you're interested. But they didn't really show that they wanted me as much as Olivet did, so that was a big factor in deciding to go there."

Robinette is a 2018 Escanaba High School graduate Robinette played the last two seasons for Bay College.

"They're the school that took the most interest in me," Robinette said of his decision. "I had a lot of schools reach out to me, just to see if I had a school to go to. They had been on my tail since junior year of high school. For them to still be around and wanting me to be a part of their program, it was hard for me to say no. Especially when they threw a good financial package together, it was a really easy decision for me."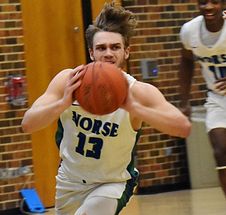 Robinette averaged 13.4 points per game this year for Bay and started all 29 of the team's games as the Norse went 19-10. Tuominen led the Lakers to a 19-10 record as well, and averaged 15.2 points per game.

The two share a special bond, centered around the love of basketball, but both say there's a lot more to it than the hardwood.

"It's something we've been talking about for a long time," Robinette said. "Before we ever got to college. All throughout high school, we've been really good friends. I remember playing against him when we were seven, eight years old. I didn't even know who he was then. He was a good player. I've always known Dre, and he's always known me. For us to play together is just surreal. It's like, wow, we've talking about this for so long. It didn't work out at Bay, so I'm just glad we got the chance now. I think we're going to make a lot of noise in that conference (MIAA)."

"We're best friends, in a sense," Tuominen said. "We've stayed in contact throughout our whole entire lives. We talk about stuff that goes on in our day-to-day lives. And on the court, it's still fun to go at each other and play against each other, and just be competitors. I think it's going to be a great experience to play alongside each other instead of going at each other."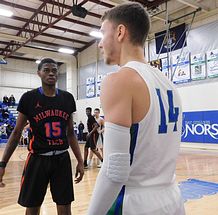 Tuominen said the bond was so strong that when they found out Olivet was recruiting both of them, they wanted to make sure BOTH were signed.

"We had other schools that were just as persistent as Olivet, but they didn't recruit both of us," Tuominen said. "Olivet had their eyes on both of us, and they kind of put us together in a package because that's what me and Ryan have ever wanted is to play together."

The two faced each other in a game at Saint Clair Community College in Port Huron on December 7th.

Robinette's Bay Norse defeated Tuominen's Mid Michigan Lakers, 94-90, in double overtime. They guarded each other most of the day.

Tuominen made four triples and scored 15 points for the Lakers that night. Robinette scored a team-high 22 points, and had the steal at the end of double OT and passed to Matt Wagner for the winning triple.

"It was a battle," Robinette grinned. "Towards the end, I think they might've switched him off me (defensively)."

Tuominen did what many collegiate athletes can't do successfully: go a year without playing, and then return to the court at a high level.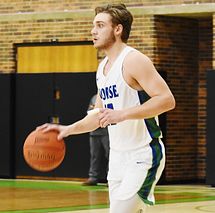 "Coming off my freshman year at Bay, mentally, I just wasn't expecting it to be what it was, so I took that year off and kind of found myself," Tuominen said. "UI realized I still had a passion and I still loved the game. After I took four months off, I got back in the gym, I wasn't in there for somebody else, I was in there for myself. Once you rekindle your love for anything, it's better the second time around."

Robinette, meanwhile, played right out of Escanaba High School, and played two seasons without taking time off. He says it was a great decision.

"Going to Bay for two years saved me so much money," Robinette said. "I've got all these credits, two good years of basketball under my belt, and so going to Olivet, I've got nothing but experience and talent to bring."

Robinette was a graphic design major at Bay, but now he plans to major in business and wants to become a real estate agent.

Tuominen plans to major in nursing, but if his credits from Bay and Mid Michigan don't transfer over, he may switch to a health, wellness, and fitness program.

Olivet's mascot is the comet. But maybe, for the next two years, they could switch to the Olivet Pasties.

Click the thumbnails in the ARTICLE HIGHLIGHTS box above to listen to Tuominen and Robinette interview, see videos from the Bay-Mid Michigan game, and see photos.