PLAY BALL: Delta County Little Leaguers Prepare

DELTA COUNTY---Escanaba and Gladstone Little Leaguers will be back on the field in six weeks as the coronavirus crisis appears to have eased in the region.

The Escanaba and Gladstone Little Leagues both say they are ready to get back on the field after the Fourth of July holiday weekend with a season that will last six weeks.

In normal times, regular season games would be starting up around this time, and All-Star district tournaments would be starting around Independence Day.

But with no Little League World Series this year, and no state or regional tournaments, Little League will now be a local league-by-league decision.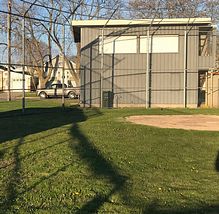 Registration is open in both Escanaba and Gladstone, and will be until June 15th in both leagues.

Little League in Williamsport issued an updated set of Return To Play guidelines on Tuesday, which includes procedures for encouraging social distancing in a sport where staying six feet apart isn't always possible.

The safety guidelines include things like limiting interaction between players, sanitizing equipment like bats and balls, not allowing concession sales, turning off water faucets, and allowing the umpire to choose to call balls and strikes from behind the pitcher, rather than from behind the plate.

"We are committed to having a place where these kids can safely play so we will be implementing a few safety precautions that will be announced closer to the start of the season," Gladstone Little League said on Tuesday.

Kids there between the ages of six and 15 can register now to be assigned to a team, but T-Ball that four and five year-olds play will not be allowed this summer.

In Escanaba, the message is much the same.

"We will be following all of the guidelines set for us to ensure a safe environment for all players, parents and spectators. We can't wait to play ball!"

Escanaba Little League does plan to have T-Ball, and also plans to have umpires call balls and strikes from the traditional spot behind the catcher.

Little League's updated safety protocols can be read HERE .

Local authorities can implement their own rules off of these guidelines as conditions in a given community warrant.

What the season looks like is still being worked on, but will involve teams playing in their sponsor jerseys as in previous regular seasons, against teams from within the league. But interleague games between teams in the Escanaba and Gladstone leagues will also be held.

Also in play are orders from Lansing, specifically, rules put in place by Gov. Gretchen Whitmer. She announced the partial re-opening of restaurants, bars, and retail shops in the Upper Peninsula on Monday, and moved the region into a recovery phase that allows social gatherings of up to ten people.

That move takes effect just past midnight this Thursday night, and Whitmer has said that further easing of restrictions can be expected if there is no spike in coronavirus illnesses in the U.P.