EXCELLENT ESKYMO: Salo Picked As State's Best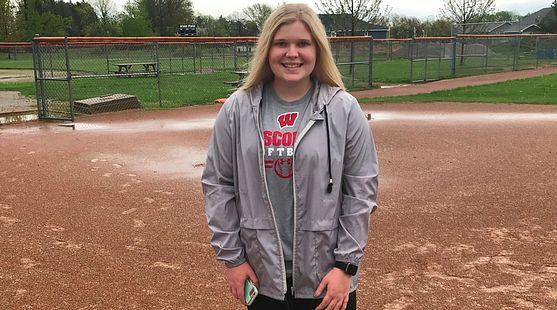 Click the video lninks to see comments from Salo and her father/Eskymo Coach Gary Salo. Click the photo thumbnails to see photos.

ESCANABA---Hard work pays off.

And for Escanaba High School senior Gabi Salo, hard work keeps paying off.

Talent can take you a long way, and so can coaching. But there's no teaching dedication and sacrifice, and Salo has exemplified both throughout her high school career.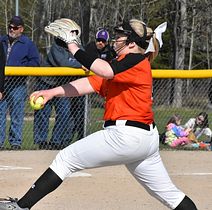 Salo was named the Gatorade Michigan Softball Player of the Year for the 2019-20 school year on Thursday, after leading the Eskymos to back-to-back state championships before having this season wiped away by the coronavirus pandemic.

"It's definitely a great honor to win this," Salo said Thursday in an interview witrh RRN Sports. "It's one of the most prestigious awards in high school athletics. To be honored like this is really humbling."

Salo not only did it in the pitchers circle for the Eskymos, she also did it in the classroom. She had a 3.99 grade point average, which helped to earn her this honor.

And while many teenagers are focused on hanging out and having a good time, Salo has avoided much of that, instead, putting in thousands of hours in both softball and in academics.

And it's paid off with numerous awards, like the one announced on Thursday, as well as an NCAA Division One scholarship to the University of Wisconsin.

"A lot of hard work and sacrifice," Salo said. "I've sacrificed a lot to get where I am today. So have my parents, and everyone who's supported me. I've worked really hard for everything."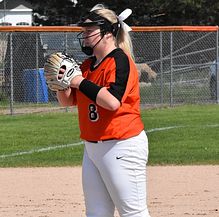 Her father, and Eskymo varsity head coach Gary Salo, is proud for many reasons.

"It's a team award," he said on Thursday. "That first year (2017-18), you can't ask for any better defense. Then this past year, we replaced six kids in the infield. To put up the stats that she's done, no only is it a reflection of her hard work, but also of the team that's played behind her."

The 5-foot-5 senior and right-handed pitcher was also named the best player in the state by MaxPreps.com during the 2020 preseason.

A three-time Division 2 First Team All-State selection, Salo twice led the Eskymos to the Division 2 state title, including in 2019, as she completed a 26-2 campaign with a 0.23 earned run average, 351 strikeouts and nine no-hitters.

Ranked as the nation's No. 52 recruit in the Class of 2020 by FloSoftball, she concluded her prep softball career with a 65-8 record, 0.43 ERA, 824 strikeouts and 12 perfect games.

The coronavirus pandemic has taken its toll on everybody, but Salo says that she's made the most of it, and continues to work toward her softball dreams.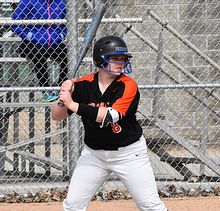 "It's been pretty hard," Salo admitted. "But I've been able to work more, which is kind of a blessing. I work at the nursing home, and it's one of the best places I could work. I love it there. And I've been spending time with my family."

Finally, as some states are allowing for sports to resume, the Salos plan to hit the road, which they have done for many summers since Gabi was a youngster.

"It's off to Louisville (Kentucky) next weekend," Gary Salo said. "Then, it'll be seven weekends in a row. A lot of states have already opened, so I think it's time to get out and play some softball."

Gabi Salo couldn't agree more.

"I'm excited," she said.

The press release announcing the award is posted below:

CHICAGO- In its 35th year of honoring the nation's best high school athletes, The Gatorade Company today announced Gabi Salo of Escanaba High School as its 2019-20 Gatorade Michigan Softball Player of the Year.

Salo is the first Gatorade Michigan Softball Player of the Year to be chosen from Escanaba High School.

The award, which recognizes not only outstanding athletic excellence, but also high standards of academic achievement and exemplary character demonstrated on and off the field, distinguishes Salo as Michigan's best high school softball player.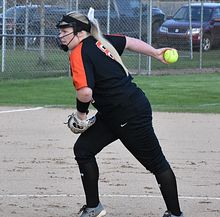 Now a finalist for the prestigious Gatorade National Softball Player of the Year award to be announced in June,

Salo joins an elite alumni association of state award-winners in 12 sports, including Catherine Osterman (2000-01, Cy Spring High School, Texas), Kelsey Stewart (2009-10, Arkansas City High School, Kan.), Carley Hoover (2012-13 D.W. Daniel High School, S.C.), Jenna Lilley (2012-13, Hoover High School, Ohio), Morgan Zerkle (2012-13 Cabell Midland High School, W. Va.), and Rachel Garcia (2014-15, Highland High School, Calif.).

A member of the Escanaba High School color guard and marching band, Salo has volunteered locally as a youth pitching coach, and she has donated her time to multiple community service initiatives through her church.

"Gabi throws harder than any pitcher we've faced in my 41 years," said Tom Kennelly, head coach of Swan Valley High School. "I don't know what else to say, but she is a stud."

Salo has maintained a weighted 3.99 GPA in the classroom. She has signed a national letter of intent to play softball on scholarship at the University of Wisconsin.

The Gatorade Player of the Year program annually recognizes one winner in the District of Columbia and each of the 50 states that sanction high school football, girls volleyball, boys and girls cross country, boys and girls basketball, boys and girls soccer, baseball, softball, and boys and girls track and field, and awards one National Player of the Year in each sport.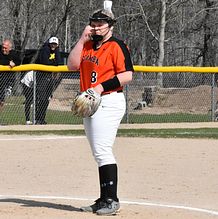 From the 12 national winners, one male and one female athlete are each named Gatorade High School Athlete of the Year. In all, 607 athletes are honored each year.

Salo joins Gatorade Michigan Softball Players of the Year Lauren Esman (2018-19, Gull Lake High School), Jenny Bressler (2017-18, Plymouth High School), Meghan Beaubien (2016-17, St. Mary Catholic Central High School), Meghan Beaubien (2015-16 & 2014-15, St. Mary Catholic Central High School), and Meghan Beaubien (2014-15, St. Mary Catholic Central High School) among the state's list of former award winners. S

ince the program's inception in 1985, Gatorade Player of the Year award recipients have won hundreds of professional and college championships, and many have also turned into pillars in their communities, becoming coaches, business owners and educators.

To learn more about the Gatorade Player of the Year program, check out past winners or to nominate student-athletes, visit www.Gatorade.com/POY, on Facebook at www.facebook.com/GatoradePOY or follow us on Twitter at www.twitter.com/Gatorade.