BASEBALL IS BACK: U.P. League Plays First Game

IRON MOUNTAIN---The Boys of Summer are back in the Upper Peninsula.

The Upper Peninsula Under-19 Baseball League, created when the American Legion cancelled its 2020 season over coronavirus concerns, kicked off its season on Wednesday as the Iron Mountain Golds beat the Bark River Bucs, 12-4, at LiUANA Field.

Iron Mountain trailed, 4-3, before scoring nine runs in the bottom of the fourth inning to take control of the game. It was called in the fifth inning by rain.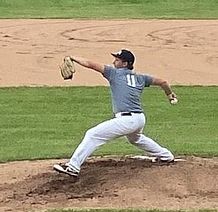 For the Golds, C.J. Bolo had two hits, drew a walk, and scored three runs. Sean Durand also had two hits, a walk, and scored twice for the Golds, which are made up of kids from Iron Mountain, Kingsford, and Norway.

The Bucs had their big inning in the top of the third, when they scored three of their four runs. Wyatt Riley walked, Zack Englund and Johnnie Robinette had back-to-back singles, and one out later, Travis Mack, hit a double and Bark River had the 4-2 lead.

But in the bottom of the fourth inning, as the rain came down, it was harder to throw strikes. The Golds took advantage of five walks in the bottom of the fourth inning, including three in a row at one point.

Still, it was great to get back on the field, as the boys played their first competitive athletic event since the pandemic began three months ago.

There are eight teams in the league: Escanaba, Gladstone, Marquette, Menominee, Iron Mountain, Copper Country, Ishpeming, and Negaunee.

There are also several junior teams filled with younger teenagers, including Escanaba, Gladstone, Marquette, and Niagara, Wis.

Iron Mountain is back on its home field this Sunday against Oconto Falls, Wis. Game time is 4:00 CST. Bark River has its home opener next Tuesday night aganst Niagara, Wis. That game, originally scheduled for July 1, will start at 6:00 EST.