Bucs Cruise To Sweep In Delta County First Games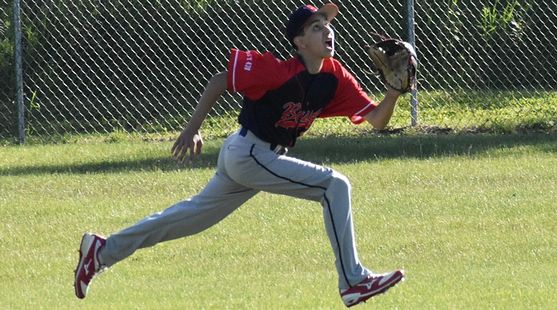 BARK RIVER---The Bark River Bucs hosted the first baseball games in Delta County Wednesday night, turning back a young Niagara, Wis., team, 14-2 and 20-3 in a pair of mercy-shortened games. It was the first games held in the county since the pandemic hit.

The games lacked much drama, but the fact that the boys were back on the field was the major story.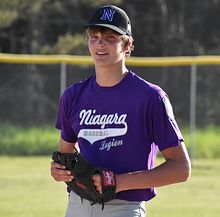 "Normally by Legion season, they have a full high school season in, so they're not as excited to go to practice and stuff," Bark River Manager Matt Richer said. "But seeing as this is their only form of baseball this year, they're all pretty juiced up to finally be out there and playing."

The Bucs are part of the new Upper Peninsula u-19 Baseball League, eight teams who usually play American Legion Baseball. The Legion cancelled this season because of the coronavirus. They have kids not only from Bark River-Harris High School, but also from the North Central and Mid Peninsula Schools.

"It's nice, we've been waiting a while for this," said Joe Javeruk, who had six RBI in the doubleheader. "We're looking pretty good. We've got a lot of players who come from different areas. There's a lot of crap-talking. It happens a lot but it's fun."

On Wednesday, Niagara, made up mostly of young teenagers from Niagara, Norway (and one North Central boy), took the lead in the first inning of both games. But they made too many defensive mistakes and the Bark River hitters were on target most of the evening.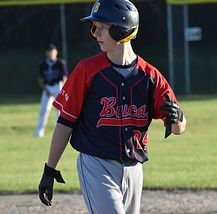 In the opener, Jesse Sampson's RBI single gave Niagara a 1-0 lead in the first inning before the Bucs scored 13 times in the bottom of the first inning. Zach Englund, Johnnie Robinette, Travis Mack, and Zach Robinette had RBI hits in the inning, and Joe Javurek, Nick Javerick, and Englund both had two-run hits.

In the nightcap, Niagara took a 3-0 lead in the first inning as Issac Lesandrini and Blake Dishaw both had hits, and three walks and a groundout helped the runs to score. Bark River scored six runs in the bottom of the inning as Englund and Joe Javurek both drove in a pair of runs with base hits.

In the third inning, Bark River scored 14 runs. Englund and Joe Javurek both brought in two runs on base hits, Adrian Mercier had a bases-clearing double, and Hall and Mack both had a pair of hits. Englund ended up with six runs batted in during the doubleheader.

"it feels good, especially after our high school season got cancelled," Englund said. "We had no baseball planned for the summer, then when the U.P. frinally decided to do this, I got excited."

Bark River travels to Escanaba to face the Cubs in the first game of the Gregg Johnson Memorial Weekend. The game starts at 7:15 and it will be broadcast live on WCHT-AM (NewsTalk 600) and on-line at www.rrnsports.com.

Click the thumbnails in the ARTICLE HIGHLIGHTS box above to see photos and videos, and hear interviews with Richer, Englund, and Joe Javurek.

---MORE---