Marquette Blues Rally Past Gladstone Indians, 7-6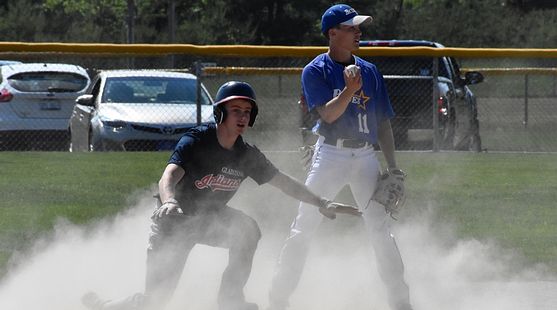 GLADSTONE---Kyle Frusti's two-run single capped a four-run bottom of the seventh inning as the Marquette Blues stunned the Gladstone Indians, 7-6, Friday in Gladstone.

It was a rematch of last summer's Upper Peninsula championship game, although not under the American Legion banner, with that organization canceling this summer's programs.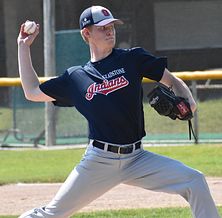 Gladstone managed only two base hits in Friday's game, but still had a 6-3 lead entering the bottom of the seventh inning because Marquette pitchers walked 12 Indians batters. Five of those walks came with the bases loaded, forcing in five of the six Gladstone runs.

But in the seventh inning, Marquette, which only had five hits, put together a big rally anywayin the final inning. Gladstone reliever Ian Schwalbach walked Conner Steer to lead off the inning, then Blake Henriksen was safe on an error by Schwalbach.

After Eli Werner grounded into a fielder's choice, Clayton Smith smacked an RBI single to bring the Blues to within 6-4. Jake Peterson walked to load the bases, then Jon Jason walked to force in the fifth Marquette run. That brought up Kyle Frusti, and he got the base hit that scored the tying and winning runs for the Blues.

Gladstone's two hits were a single by Zach Hanson and a double by Dayton Bernson.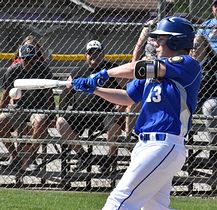 The game saw a total of 21 walks: 12 by Marquette pitchers Henriksen, Jason, and Erik Johnson. Johnson took the win in relief, throwing 2 1./3 innings.

Gladstone's nine walks inclued five by Schwalbach, who took the loss while throwing 1 1/3 innings.

Drake Forrest threw the first three inings, allowing one run on no hits and two walks. Parker Frappier threw two innings of middle relief, allowing two runs on two hits.

Marquette improved to 2-0 on the season, while Gladst0ne lost its season opener.

Gladstone will play two games on Saturday, against Menominee at 1:00 and Negaunee at 4:00. Both games will be broadcast on WCHT-AM (NewsTalk 600) and www.rrmsports.com.

FRIDAY'S SCOREBOARD
Marquette 7, Gladstone 6
Escanaba 9, Bark River 7
Menominee 3, Iron Mountain 0
Negaunee 15, Ishpeming 2
Iron Mountain 11, Ishpeming 1
Menominee 11, Negaunee 1

Click the thumbnails in the ARTICLE HIGHLIGHTS box above to see photos and videos from Friday's game.