Cubs Beat Negaunee; Lose Heartbreaker To Flames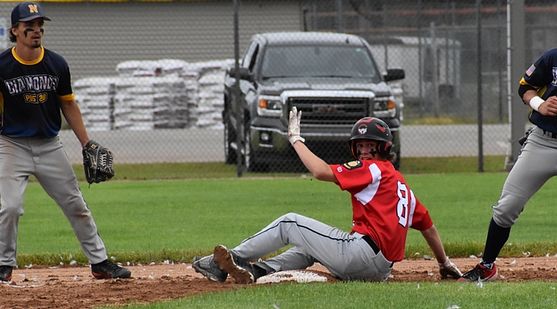 ESCANABA---The Escanaba Cubs Under-19 baseball team beat Negaunee, 11-1, in Sunday's first game at Al Ness Field, but lost a tough 8-7 decision to the Copper Country Flames later in the day.

The Flames played Iron Mountain earlier Sunday and had a comeback fall short, 11-8.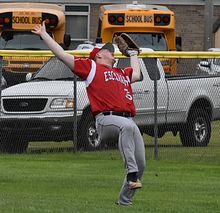 In the morning game, Hunter Lancour pitched the Cubs to their second victory on the weekend, allowing only one run when he hit Nico Lukkarinen with the bases loaded.

Lancour also led the way at the plate, with RBI singles in both of his first two at-bats, bringing home Jake Anderson and Nick Kolich. Kolich scored twice when he was safe on an error one time, and safe on a fielder's choice the other.

In the evening game, the Cubs scored six runs in the third inning to take a 7-3 lead before the Flames scored three times in the bottom of the inning. Cubs pitchers Grant LaMarche and Riley Lamb kept the Flames off the board for the next three innings, but in the bottom of the seventh, Copper Country scored twice against reliever Adam Willette.

"Every loss stings," Escanaba Manager Jon Bintner said. "We had opportunities to score more runs and we didn't. Hopefully, we learn how to put teams away."

A key play in that inning came at second base, when it appeared that Cubs catcher Trent Lawson threw out a Flames baserunner trying to steal. The call was safe, however, and the Flames got two more base hits to pull out their first win of the season.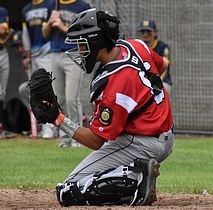 "They're human," Bintner said of the umpires. "They make calls, and there's not much you can do about it. A lot of people will look at it and say it cost us the game, but when you're only winning 7-6 going into the seventh inning, that one play didn't cost you a game."

Bintner, depsite the loss, says it was a successful weekend for his entire league, which was put together in the wake of the American Legion progran being cancelled this summer.

"It's awesome," Bintner said. "The fans have been great. You can tell people are excited about a sport. Friday night (against Bark River), it felt like old times, getting people here, cheering on these kids, their friends are here watching. You can tell there's excitement in the air about a sport happening, and the kids are excited about it, and it's good for the area."

The Upper Peninsula and northern lower peninsula are allowed to have sporting events with sepctators up to 500 people, with social distancing. Indeed, many people watched from inside their cars all weekend, and the indoor bathrooms were closed in favor of single-person portable toilets, complete with hand sanitzer. Public water fountains were taped off.


The Iron Mountain-Kingsford-Norway team, meanwhile, got home runs from Jesse Julian and Hunter McCarthy to post wins over Copper Country, 11-8, and Bark River, 10-2.

MARQUETTE SWEEPS ISHPEMING---The Marquette Blues dominated a young Ishpeming Blue Storm team on Sunday, sweeping a doubleheader, 12-0 and 16-0.

In the opener, Hogan Nemetz and Kyle Frusti combined to throw a one-hitter, with Nemetz tossing three innings and Frusti working two. Seven different Blues players had base hits, including Peter VandenAvond, who scored three runs.

In the nightcap, four pitchers combined to throw a no-hitter: Clayton Smith, Brenden Kaski, Jakob Peterson, and VandenAvond. Peterson had a triple, single, two runs batted in, and two runs scored. VandenAvond and Kaski also had two RBI for the Blues (4-0).

SUNDAY'S U.P. BASEBALL SCOREBOARD
Menominee 12, Gladstone 6
Menominee 10, Bark River 1
Escanaba 11, Negaunee 1
Copper County 8, Escanaba 7
Iron Mountain 11, Copper Country 8
Iron Mountain 10, Bark River 2
Marquette 12, Ishpeming 0 (Game One)
Marquette 16, Ishpeming 0 (Game Two)

Click the thumbnails in the ARTICLE HIGHLIGHTS above to see photos and videos from the Escanaba-Negaunee and Copper Country-Iron Mountain games, and hear comments from Cubs Manager Jon Bintner.