Gladstone Tops Marquette To Earn First Win, 6-5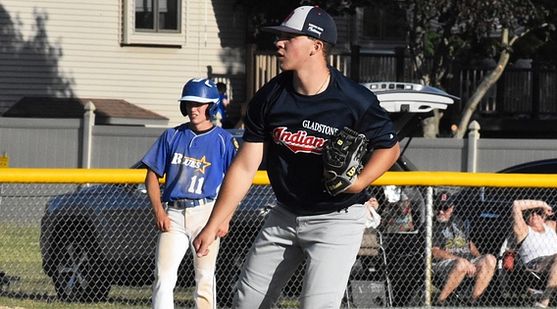 GLADSTONE---The Gladstone Indians picked up their first Upper Peninsula Baseball League win Thursday night, beating the Marquette Blues, 6-5.

Zach Hanson walked with the bases loaded to win the game.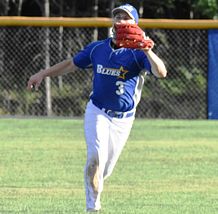 It was an anti-climatic way to end an otherwise well-played game, which saw only one error committed by each team and good pitching that included only a handful of walks (ironic, then, that a walk ended the game).

It was a scoreless game through the first three-and-a-half innings as Marquette had plenty of scoring opportunities but could not get a hit with men on base.

In the second inning, Marquette got a leadoff from Jon Jason and singles from Jake Peterson and Connor Steer, but could not score.

In the fourth inning, Jason and Peterson led off with singles but the next three men were retired by Indians starting pitcher Parker Frappier.

Marquette pitcher Blake Henriksen retired the first ten Indians he faced before Caden Alworden broke it up with a hard-hit double to the outfield fence. With two out, Dayton Bernson followed with an RBI single to give Gladstone a 1-0 lead.

Marquette finally tied the game in the fifth inning when Brendan Kaski led off with a hit, got bunted to second by Peter VandenAvond, and scored on a Henriksen grounder.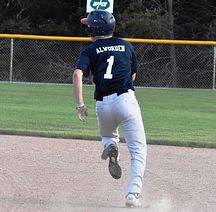 Gladstone responded in the bottom of the inning, and Alworden played a big role again. With one out, Drake Forrest walked, Riley Baldovski singled, and Ryan Polley was safe on an error.

That loaded the bases and Zach Hanson walked, bringing home the go-ahead run.

Alworden then rifled a shot to the left field fence, clearing the bases, making it a 5-1 game.

"He's a good pitcher," Alworden said of Henriksen. "He provides the speed, so all we have to do is just barrel up and it comes off the bat solid. And that's what happened. The first two times I came up, he threw a first-pitch fastball right down the middle, and I kind of let up on it. I don't know what I was doing, but I wasn't going to let that happen a third time, so I took it for a ride."

But Marquette was far from done. In the top of the sixth, Peterson got his third hit of the game when he led off the inning with a double.

Smith was safe on an error, and then Kyle Frusti stepped up and launched a three-run homer to left field to make it a 5-4 game.

"I got a first pitch fastball, up and in, and I turned on it," said Frusti, who's from Superior Central High School. "I extended out on it, and got it over (the fence)."

Marquette wasn't done. Kaski got his second straight hit, and that was it for Frappier on the mound.

Trevor Hanson was brought in to pitch, but it didn't go well as VandenAvond ripped a double to right-center field to bring home the tying run. Then Hanson walked the next two guys to load the bases, so Indians Manager Justin Jurek brought in Zach Hanson to pitch.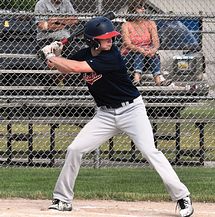 Hanson got Jason to bounce out into a force play, and then Peterson, who was 3-for-3, took a called third strike to end the inning.

The game stayed tied at 5-5 until the bottom of the seventh inning, when Kaski was brought in to replace Henriksen. Riley Baldovski greeted Kaski by smoking a double to the left field fence.

Polley hit a ground ball on the infield and reached base when no one covered first base. Then Kaski walked Blake Krouth intentionally to load the bases.

Zach Hanson then drew a walk on five pitches to end the game.

Marquette lost for the first time after opening the season with seven straight wins.

"It's gone about as well as it could because we're 7-1," Frusti said. "You can'r really ask for much better. I mean, losing close games like this is tough, but we'll be fine. It feels good to be getting back out there. Definitely, not having a high school team hurts in terms of progress and getting into the game, but we've come out pretty well."

Gladstone has only played three games because of rainouts, and improved to 1-2.

"It was a good first win," Alworden said. "We had two rough ones the other night, but we came back on got the win tonight."

Click the thumbnails in the ARTICLE HIGHLIGHTS above to see photos and videos taken by Ginny Krouth, and to hear comments by Frusti and Alworden.