Whitmer: MHSAA Should Move Some Fall Sports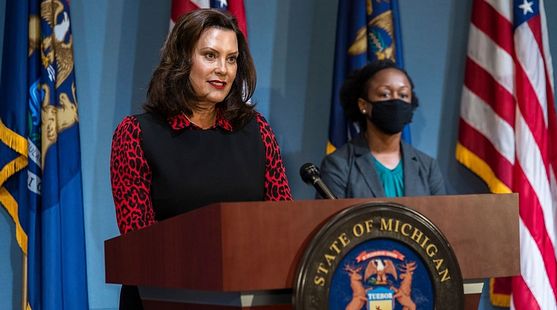 CLICK THE AUDIO BUTTON ABOVE TO HEAR WHITMER'S COMMENTS

LANSING---Governor Gretchen Whitmer is calling on the Michigan High School Athletic Association to move certain fall sports to next spring where social distancing is not possible.

Her comments on Tuesday seemed aimed at football and volleyball, although she did not name them specifically. The governor spoke as she unveiled the state's roadmap to re-opening schools this fall, and athletics were given the green light to proceed.

"I think it's important that we have the ability to give our kids some semblance of normalcy," Whitmer said. "I recognize how important a lot of athletics are to kids' future as well and we want to make sure that we proceed safely."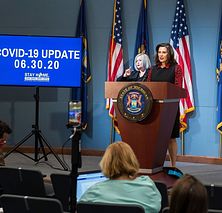 She outlined some conditions for sports to move forward this fall, and the restrictions would be tougher for areas of the state that are in Phase Four as opposed to Phase Five. The Upper Peninsula and northern lower Michigan are in Phase Five due to low coronavirus numbers, whereas the rest of the state remains in Phase Four for the forseeable futire.

"Every participant needs to confirm that they're healthy and without any symptoms prior to the event," Whitmer said. "All equipment needs to be disinfected before and after use. Spectators are allowed to take part, provided that facial coverings are used and that they observe six feet of social distancing at all times."

The governor then specifically discussed fall sports, which are scheduled to begin practices in just over a month's time.

"I'm also calling on the Michigan High School Athletic Association to consider postponing fall sports that have the impossibility of social distancing as a part of them, consider moving those to the spring and running some of the more individualized sports like track and field, or tennis, or golf to the fall," Whitmer said. "And I anticipate a decision coming from them somewhere around July 20th to 25th, is what they've indicated."

Some other sports that could possibly be moved from the spring to the fall include baseball and softball. Already this month, there are numerous youth baseball and softball games being held across Michigan...even in southern Michigan, where the state is still in Phase Four.

Whitmer noted that the MHSAA is not a part of state government, and is a private organization that runs high school sports in the state. But the MHSAA has been in lockstep with the governor throughout the entire pandemic, and has specifically cited Whitmer's wishes when the association did such things as cancel the spring sports season.

The governor did not say whether she would stop certain sports from happening, and she did not say specifically if football, volleyball, and other sports could continue in northern Michigan but not in the rest of the state.