HOLY COW! Esky Cubs Surprise Menominee, 8-2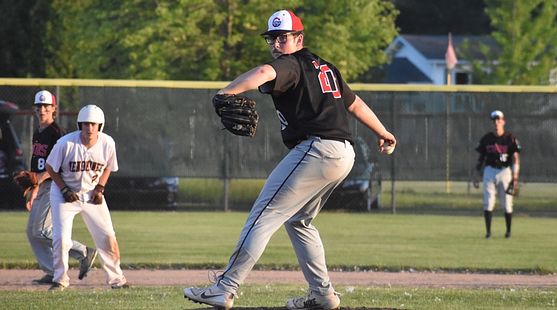 ESCANABA---They say that timing is everything, and that was true for the Escanaba Cubs baseball team last night as they took on one of the hottest teams in the Upper Peninsula Wednesday night. The Cubs got clutch pitching at key moments and timely hitting as they beat the Menominee Red Wave, 8-2, at Al Ness Field.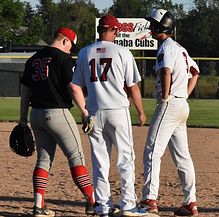 Menominee had won its first eleven games before losing to Marquette Monday night. But the hard-hitting team was handcuffed to just three base hits and could not take advantage of three Cubs errors and seven walks. The Red Wave stranded the bases loaded twice and left a total of 12 men on base in the seven innings.

Grant LaMarche, who has signed a National Letter of Intent to play at NCAA-II Northwood University, had a lively fastball and even though there were a couple of errors behind him, he also benefitted from some nice plays. In the second inning, with runners at second and third, Menominee's Hunter Goldschmidt hit a chopper that went over the mound.

Escanaba shortstop Hunter Lancour charged it, and threw on the run to get the third out.

In the third inning, Andrew Shroeder got a leadoff single against LaMarche, and a missplayed fly ball in right field put two men on. LaMarche got Buddy Beyer to pop up and Keaton Uecke to ground into a force play to keep it a 0-0 game.

Then in the bottom of the inning, Escanaba put together a two-out rally. Noah Lancour drew a walk (one of three walks he had on the night), then Hunter Lancour smacked a base hit.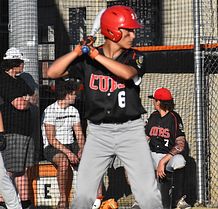 LaMarche and Riley Lamb followed with back-to-back hits to give Escanaba a 2-0 lead.
In the fifth inning, an error with two out kept the inning going for Menominee, and Keagan Monroe followed with an RBI triple to cut the Cubs lead to 2-1. But Escanaba got an unearned run of its own in the bottom of the inning on a walk, error, and sacrafice fly by Lamb.

The turning point came in the top of the sixth inning. LaMarche walked the leadoff man, so Cubs Manager Jon Bintner brought Brett Schlenvogt in to pitch.

It was a rough start for Schlenvogt as he walked three batters and threw away a sacrafice bunt attempt. The Red Wave were within 3-2 and had the bases loaded with nobody out.

The top of the order was up, too, for the Red Wave. But Schlenvogt got Schroeder and Jaden Werner to both pop up, then Monroe smoked a shot to left field that LaMarche reached back and brought home. That kept the Cubs in a 3-2 lead.

In the bottom of the inning, Nick Kolich looped one to right field with two out to put two men on base. Longtime Red Wave manager John Lauzer went to the bullpen to relieve Goldschmidt,bringing Braeden McMahon in to pitch.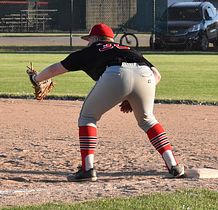 Noah Lancour drew a walk (again) on a 3-2 pitch. Hunter Lancour then bounced a two-run single into left field to make it 5-2.

LaMarche doubled home two more runs, and Lamb got his third run batted in of the night with an RBI single to right-center field.

Schlenvogt gave up a single to Buddy Beyer to start the seventh inning, then an error put two men on. But he got the next three outs, including a nice running catch on a pop fly off the back of the mound, and the game ended with a Cubs win.

LaMarche went five-plus innings to earn the win, allowing two runs (one earned) on just one base hit. He struck out six and walked four. Schlenvogt earned the save, throwing two innings, allowing two hits, three walks, but no runs.

Goldschmidt went 5 2/3 innings and took the loss, allowing four runs (two earned) on six hits. He struck out five and walked two. McMahon was charged with four runs (all unearned) on five hits.

Menominee (11-2) will face Coleman, Wis., Thursday night at Spies Field.

Escanaba (5-1) will host Gladstone (3-2) Thursday night. The junior game starts at 4:00, and the senior game has a 7:00 scheduled first pitch. Both games will be broadcast live on WCHT-AM (NewsTalk 600) and on-line at www.rrnsports.com.

Gladstone won its game Wednesday night over Iron Mountain, 6-0, as Ian Schwalbach threw a shutout and Dan Martin launched a three-run homer.

Click the thumbnails in the ARTICLE HIGHLIGHTS box above to see photos and videos, and hear post-game comments from Schlenvogt and LaMarche.