BEAT THE HEAT: Johnson, Iron Mountain Win 8-3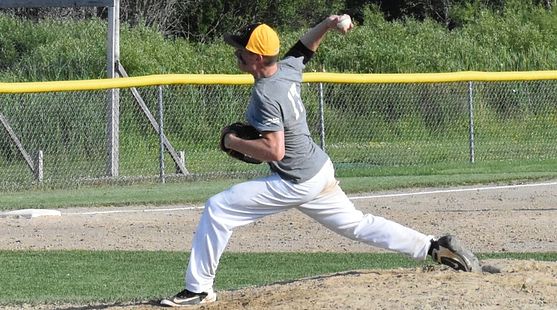 BARK RIVER---Caleb Johnson pitched eight innings of two-hit relief in 90-degree heat on Wednesday as the Iron Mountain-Kingsford-Norway U19 Baseball team topped the Bark River Bucs, 8-3, in a nine-inning game.

"I'm wet right now, I'm super-sweaty," Johnson said after the game. "My curveball was working really well today. I struck out most kids with the curveball. My gas wasn't quite there today, but it was all right. I wasn't expecting to pitch today, so I didn't warm up, and didn't really strecth that well."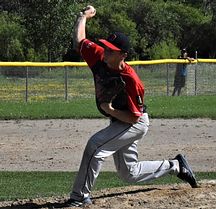 "I thought Blakewas going to pitch at least half the game and Nolan Amundson would come in to relief, but he (Coach Paul Julian) came out to the mound and said 'Caleb Johnson, come here, shut 'em out."

And, that he did.

IMKN took a 2-0 lead in the top of the first inning on a two-run single by Johnson with two out, giving Blake Julian a cushion to work with on the mound. Julian struggled in the first inning, walking two batters, hitting another, and there were two defensive errors behind him.

Bark River scored two runs without a base hit in that inning, but Iron Mountain got the runs back the next inning against Bucs starter Zach Englund.

Josh Weber and Nolan Amundson led off with singles, then with two out, Gannon Bray singled home two runs to make it a 4-2 game.

Julian hit the first two batters he faced in the bottom of the second inning, and that ended his day on the mound, bringing Johnson in to pitch.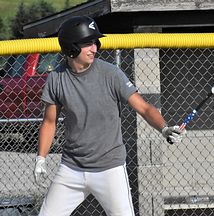 Johnson gave up a base hit to Aidan Johnson to load the bases, then walked Antonio Mercier to force home the Bucs' third run.

But Caleb Johnson got Nick Javurek to take a called third strike to keep it a 4-3 game.

In the third inning, he walked Johnnie Robinette, but quickly picked him off of first base.

Then Wyatt Riley was safe on an error, and from there, Johnson retired the next eight men he faced. He struck out the side in the fifth inning.

Meanwhile, Englund settled down for the Bucs on the mound, allowing only an unearned run in the third inning that gave IMKN a 5-3 lead. Englund left the mound after four innings.

IMKN added another unearned run in the sixth inning, then put the game away in the eighth on a two-run single by Josh Weber, another two out hit by the Dickinson County boys.

Iron Mountain had eight hits, and three of them were timely, driving in two runs apiece, by Caleb Johnson, Bray, and Weber,

Bark River was handcuffed to just one base hit until Javurek got one in the ninth inning.


"He just kept us off-balance," Bucs Coach Matt Richer said. "Like I told the guys right before I came over here, we've had six (total) hits in the last three games. It's hard to win when you can only get six hits. In the last four games, we've been in the games against these real good teams like Menominee, Gladstone, and these guys, and we always seem to have that one inning where we have one or two errors, and it's always cost us."

"It's all mental, I think, and we've got to break that, because other than that, we've been playing some really good baseball lately."

Riley threw the final five innings for the Bucs, allowing three runs on three hits and four walks.

Johnson, meanwhile, was stellar. The University of Wisconsin-Oshkosh recruit allowed two hits and four walks in eight innings, striking out eleven batters.

Iron Mountain improved to 8-6 on the season while Bark River fell to 4-11.

IMKN hosts Gladstone Thursday night while Bark River is off until next Tuesday when the Bucs host Escanaba. That game will be broadcast on NewsTalk 600 and www.rrnsports.com.

Click the thumbnails in the ARTICLE HIGHLIGHTS box above to see photos and hear post-game comments from Caleb Johnson and Bucs Coach Matt Richer.