Marquette Sweeps Doubleheader From Esky Cubs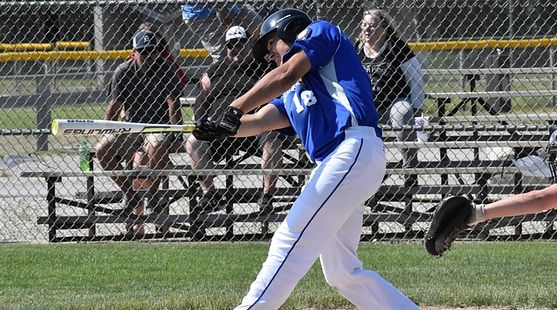 MARQUETTE---The Marquette Blues took a 5-0 lead in the first inning and held off the Escanaba Cubs, 8-5, in an Upper Peninsula u19 baseball game Wednesday night in Marquette.

The Blues also won the second game, 5-3.

Arnt hit Jon Jason with a pitch with the bases loaded to force in the first run, Blake Henriksen drove in another with a sacrafice fly, and Kyle Frusti singled home the third run. Then Eli Werner doubled home two runs to give Marquette a 5-0 lead.

Escanaba got a run back in the second inning when Noah Lancour walked, Nick Kolich doubled, and Lancour scored on a wild pitch. Then in the third inning, Arnt singled, Hunter Lancour walked, and Grant LaMarche singled to load the bases against Marquette pitcher Clayton Smith, who will play at Mott Community College in Flint this fall.

Riley Lamb singled in a run to make it 5-2, Lancour walked with the bases loaded, and Kolich singled home LaMarche, and the Cubs were within a run at 5-4.

Marquette took a 6-4 lead as Smith hit a solo home run in the bottom of the third inning.

The Cubs closed to within 6-5 in the fourth inning on an RBI single by LaMarche, but relief pitcher Erik Johnson was able to shut the Cubs out the rest of the game.

Marquette got two insurance runs in the bottom of the fourth inning when Henriksen ripped a two-run triple to center field.

The Cubs had one last chance in the sixth inning as Arnt singled, and with one out LaMarche walked, putting the tying run at the plate. But Johnson was able to strike out both Lamb and Noah Lancour to end the game.

Smith pitched 3 1/3 innings and gave up five runs on six hits and six walks. He struck out seven and got a no decision. Johnson earned the win in 2 2/3 innings of relief, striking out seven and walking three, giving up three hits, and giving up no runs.

Arnt took the loss, throwing all five innings, allowing eight runs (seven earned) on nine hits and five walks.

Marquette's Jake Peterson went 3-for-4, Henriksen drove in three runs, and Werner drove in two. For Escanaba, Arnt and Kolich both went 3-for-3, and LaMarche went 2-for-3.

In the second game, Marquette took a 2-0 lead in the first inning before the Cubs grabbed the lead in the second ining on a three-run double by Brett Schlenvogt. The Blues, however, took advantage of a bunch of walks and wild pitfches, and a big error.

Escanaba pitcher Connor Aiken threw four innings and allowed just one hit, in fact, Marquette had just one hit in the entire game. Aiken was charged with five runs, and only one was earned. He walked nine batters. Kolich threw the final inning and did not allow a runner.

Hogan Nemetz threw all six innings to earn the win for Marquette. He allowed three earmed runs on two hits and three walks. He struck out four batters. Trent Lawson and Arnt had Escanaba's only base hit.

Marquette improved to 12-1 on the season while Escanaba fell to 5-6.

Marquette takes on Negaunee Thursday night while Escanaba hosts Sheboygan, Wis., Friday night at 7:00. That Cubs game will be broadcast on WCHT-AM (NewsTalk 600) and on-line at www.rrnsports.com.