Mistake-Prone Cubs Fall To Sheboygan In Opener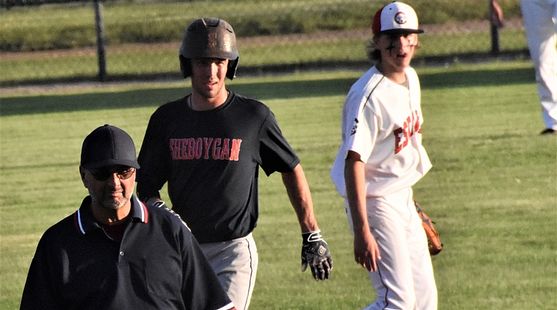 ESCANABA---The Escanaba Cubs Under-19 baseball team made five errors and had trouble getting hits with men in scoring position Friday night and lost to Sheboygan Post 83 out of Wisconsin, 10-4, at Al Ness Field. It was the first game this summer against a non-U.P. team, and it kicked off a big weekend of baseball in Escanaba.

The Cubs had only nine players available while Sheboygan, two years removed from winning Wisconsin's American Legion state championship, showed up with 18 guys.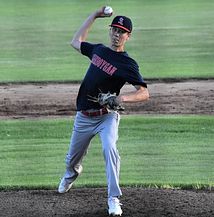 "That's the worst we've looked on defense so far this year," Cubs Manager Jon Bintner said. "I mean, lack of communication. Tailor-made double play ball, nobody talking, Routine fly balls in the infield, nobody talking. That kind of stuff. A lot of it is youth. We have a very young team overall with not a lot of baseball experience. We're learning everiy day."

Sheboygan scored the first run on an RBI single by Hunter Steger in the first inning, then Cubs pitcher Grant LaMarche walked two batters in the second inning and they both scored, one on an error, and the other when the Cubs got a man in a run-down between first and second base and the other runner came home from third base to make it 3-0.

A five-run fourth inning put the game away for Post 83, and there were two more errors and two more walks in that inning. Jeff Emperly's two-run single and Bennet Becker's pop fly single to right field were among four base hits that inning.

Escanaba scored three runs in the bottom of the fourth inning. Hunter Lancour, who had three of Escanaba's six total base hits, got one that inning, and Collin Arnt and LaMarche both drew walks. With the bases loaded, Riley Lamb hit a slow roller toward third that brought one run home, and he was safe at first on a throwing error, so a second Cubs run came home.

Jake Anderson's RBI single cut the deficit to 8-3, but the Sheboygan team scored two runs off Cubs reliever Adam Willette in the sixth inning on a pair of infield singles, a sacrafice fly by pinch-hitter Jake Leonard, and another Escanaba infield error.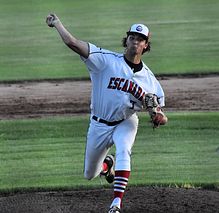 Escanaba scored its final run in the bottom of the seventh on an RBI single by LaMarche off Sheboygan reliever Dawson Salvoski.

Restin Morehouse threw six innings for Sheboygan to earn the win, scattering five hits and allowing two earned runs. He got out of his biggest jam in the fifth inning when he got Lamb to bounce into a 4-6-3 double play with the Cubs trying to cut into a five-run deficit.

LaMarche threw four innings and took the loss for Escanaba allowing eight runs on five hits and three walks. Willette threw the final three innings and was charged with two runs.

Escanaba fell to 5-7 on the season while Sheboygan improved to 4-1. The two teams play again at 10:00 ET Saturday morning. Then Sheboygan plays the Eastern U.P. Wood Ducks in the second game, and the Cubs will battle the team from the Soo at about 3:00.

The Escanaba Junior Cubs will host the Soo Junior team in a doubleheader on Sunday.

Click the thumbnails in the ARTICLE HIGHLIGHTS box above to see photos and videos, and hear post-game comments from Cubs Manager Jon Bintner.