LOSING STREAK OVER: Cubs Earn Walk-Off Win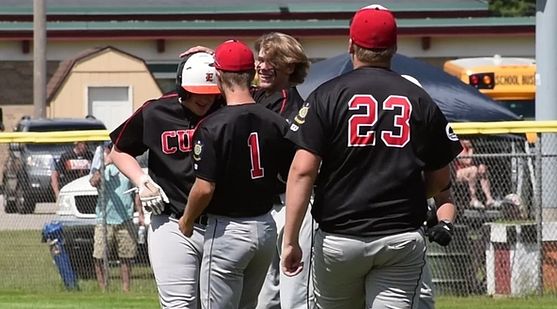 ESCANABA---The Escanaba Cubs Under-19 baseball team broke a six-game losing streak on Saturday with a 2-1 win over Sheboygan, Wis., Post 83 at Al Ness Field.

Riley Lamb's walk-off double was the game-winner in the eighth inning.

Then the Cubs went on to beat Sault Ste. Marie, 4-1.


Against Sheboygan, the Cubs scored a run without a base hit in the third inning when Brett Schlenvogt walked, and with two out, scored on an error.

The visitors tied the game in the top of the fourth inning as Peyton Voight led off with a single and scored on a hit by Justin Gmach.

Escanaba pitcher Noah Lancour was able to keep Sheboygan off the board, with the help of a wild defensive play where second baseman Jack McEvers dropped a pop up, but the ball popped toward shortstop Hunter Lancour, who dove and made a circus catch with his bare hand.

Adam Willette came on to throw for the Cubs and gave up one hit in both the seventh and eighth innings, but was able to put zeroes up on the scoreboard.

In the bottom of the eighth, Collin Arnt was hit by a pitch, and Hunter Lancour bunted him to second. With two out, Lamb, who has been in a recent hitting slump, lofted one to deep center field, just out of the reach of the diving outfielder. Arnt scored the winning run.


Escanaba had no base hits until Schlenvogt got one in the sixth inning.

Lamb's walk-off hit was the team's second. Lancour and Willette held Sheboygan to eight hits, but just one run, and Willette earned the pitching win in relief.

Later in the day, Escanaba pitcher Hunter Lancour threw five strong innings as the Cubs beat the Eastern U.P. Wood Ducks out of Sault Ste. Marie, 4-1.

Escanaba improved to 7-7 on the season.

The Cubs will make the short trip to Bark River on Tuesday for the third meeting of the summer between the two teams. Game time is 7:00.

It will be broadcast live on NewsTalk 600 and www.rrnsports.com.

Click the thumbnails in the ARTICLE HIGHLIGHTS box above to see photos and videos from the Escanaba-Sheboygan game.