Marquette Blues Hold Off Gladstone Indians, 6-4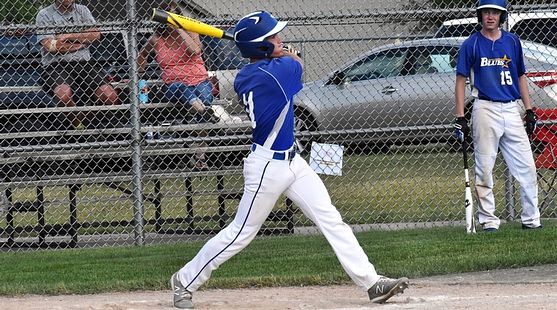 MARQUETTE---The Marquette Blues Under-19 baseball team scored three runs in the first inning and held off the Gladstone Indians, 6-4, Wednesday night in Marquette.

Peter VandenAvond led the Blues with three base hits, while Jon Jason added two hits and two runs batted in, and Blake Henriksen added two hits of his own. The top three in Manager Derek Swajanen's batting order went a combined 7-for-12 in the game.

Eli Werner's RBI triple capped that three-run first inning for Marquette, and the Blues raced to a 6-1 lead after four innings.

Marquette had to hang on at the end , though, as the Indians loaded the bases in the seventh inning when reliever Kyle Frusti walked two batters and hit another. But Jason came on to pitch and struck out Zach Hanson with the tying run in scoring position to end the game.

Dan Martin had two hits and a run batted in for Gladstone, and Parker Frappier drove in two runs on a single and groundout.

Marquette (13-1) pitchers beat Gladstone for the second time this season despite allowing double digit walks. The Blues won on Opening Weekend, 7-6, despite walking 12 Indians batters. Marquette has won two of three match-ups with Gladstone this summer.

Gladstone pitcher Ian Schwalbach allowed ten base hits and all six Marquette runs, and he took the loss. He struck out five and walked one. Frappier threw the final inning.

Gladstone (8-5) will be home on Saturday for two games against two different Petoskey teams.

Menominee will also play the two Petoskey teams on Gladstone's field in an event that will see four games played, starting at 10 in the morning.

Marquette will host Copper Country in a doubleheader on Thursday.