SPLIT DECISION: Bucs, Red Wave Both Take One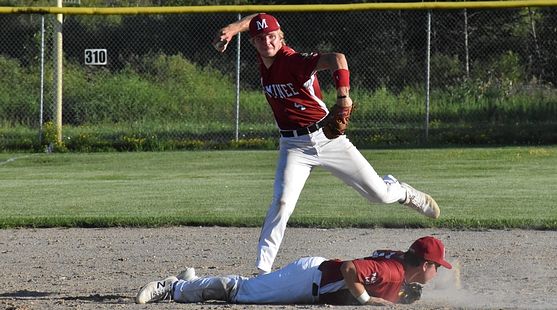 BARK RIVER---The Bark River Bucs rallied from six runs down to beat the Menominee Red Wave, 8-6, in the first game of a doubleheader Thursday in Bark River.

The Red Wave held on to win the nightcap, 10-6.



The win in the opener snapped a seven-game, two-week-long losing streak that saw the Bucs have the lead in several games, only to lose in the end.

But this time, Wyatt Riley stopped the bleeding with his team trailing 6-0 by pitching four innings of relief, allowing only two hits, walking none, and allowing no runs.

Then the bats got going late, with Max Hall's two-run single capping a five-run fifth inning that erased a 6-3 deficit. Riley also had an RBI single during that rally.

"Honestly, it was just throw strikes and try not to screw up, because these guys can hit the ball," Riley said of his pitching strategy. "I just got lucky, I guess. I was just hitting the outside corner a lot, and my off-speed was working a little bit. They just can't hit a really slow pitcher."

"He came in, and just kept us in the game," Bucs Manager Matt Richer said. "As the game went on, our bats finally started to get going, and we were able to pull it out."
But not before some typical Bucs final-inning drama. Menominee got a lead-off single from Ethan Russell, then Riley walked Billy Bailey. Dante Sartorelli bunted both runners into scoring position, and the tying run was in scoring position.

Jimmy Coldren sco0lded a line drive and shortstop Nick Javurekcaught it, and threw to third base to double off a helpless Russell, ending the ballgame.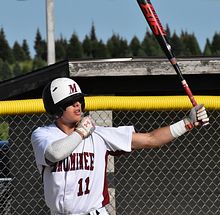 Earlier in the game, Menominee built a 6-0 lead with a four-run third inning, with Braeden McMahon ripping a two-run double to end the pitching of starter Adrian Mercier. Riley gave up an RBI single to Bailey, but from there, he had back-to-back 1-2-3 innings.

Then in the third, the Bucs got two runs back on hits by Joe Javurek and Noah Gorzinski, then Ian Gorzinski hit a sacrifice fly and Antonio Mercier's bounceout brought in another.

The Bucs got another run in the fourth inning on hits by Riley, Hall, and Joe Javurek, and a bases loaded sac fly by Noah Gorzinski.

That set up the big fifth inning, which included a two-run single by Nick Javurek and the two-run hit by Hall. A fifth run scored when one runner got caught in a rundown and Riley scored from third base (just barely),

Menominee, which entered the game with a 17-2 record, was limited to five base hits.

Keagan Monroe pitched the first two innings, giving up just one base runner. With the Red Wave set to play Petoskey in Gladstone on Saturday, Monroe was lifted and Beyer come on to throw.

He ended up giving up three runs on three hits, then Sartorelli was charged with three more runs in a brief relief appearance. Andrew Shroeder, the fourth Red Wave pitcher, took the loss, allowing the final two runs.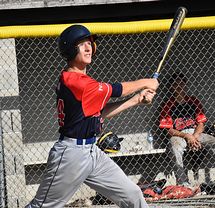 In the second game, Nick Javurek took the mound for the Bucs, and he labored gthrough the first three innings. He did retire the side in order in the second inning, but walked three batters in the third inning.

Javurek was able to get a fly ball to get out of that jam, but in the fourth inning, after getting the first out, four straight batters reached base against him in four different ways: walk, hit by pitch, error, and base hit. Menominee eventually sent 12 men to the plate that inning, with Noah Gorzinski taking the brunt of the attack. Jaden Werner had an RBI single and Beyer added a two-run double during that rally, and Gorzinski was followed to the mound by Mack and Antonio Mercier.

Menominee ended up with seven runs that inning to take an 8-0 lead, and the Red Wave led 10-1 until the Bucs put on another rally in their final at-bat against reliever Goldschmidt.
Joe Javurek and Ian Gorzinski had RBI singles during that inning, and the Bucs had the bases loaded when Antonio Mercier ripped one toward left field.

Monroe got to it deep in the hole at short and fired it across the diamond for the best defensive play of the game, perserving the split for Menominee.

Bark River is now 5-13 on the season, and it won't get any easier on Tuesday, when the 15-1 Marquette Blues come to town. Marquette swept past Copper Country in a pair of games Thursday night. Menominee (18-3) will be in Gladstone for games against two different Petoskey teams on Saturday.
Click the thumbnails in the ARTICLE HIGHLIGHTS box above to see photos and videos, and hear comments from Riley and Richer.