Escanaba Edges Gladstone In Girls Tennis Battle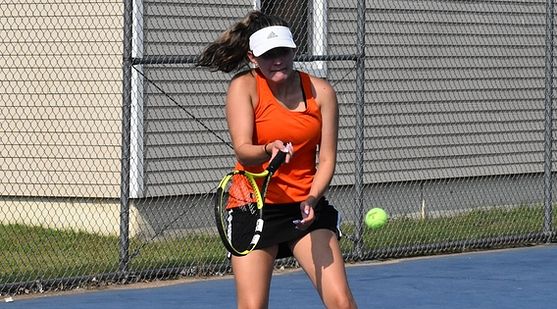 GLADSTONE---The Battle of Delta County's first match-up of the high school girls tennis season was closely contested as always on Monday, as the Escanaba Eskymos beat the Gladstone Braves, 5-3, in Gladstone.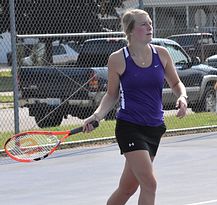 "I feel like we're a little bit inexperienced," Escanaba Coach Chris Ogren said. "I think that means we have a lot of potential. We have a lot of girls who it's their first time out. With football being cancelled, we added a lot of girls from cheerleading. We've got eight freshmen out for the team, and some sophomores and juniors who are just new to the sport. I think early on, there's gonna be a lot of learning, but I think as the year progresses, you'll see our team get a lot better."

"We're gonna be decent," Gladstone Coach Ryan Barron said. "We lost quite a few seniors from last year, so that's always tough. But we have some strong freshmen coming in this year. They're super-athletic and they've got brains, so we should have a really good year."

Escanaba won three of the four singles matches: Jacey Moreau (#1 over Alaina Trudeau, 6-4, 7-6), Sophia Derkos (#2 over Kate Matthews, 6-2, 6-1), and Ukiah Penegor (#3 over Rachel Krouth, 6-4, 6-0). Gladstone's Amanda Beem (#4 singles over Addison Trombley, 6-3, 6-1) got the Braves lone singles win.

The two teams split the doubles matches. At #1 doubles, Gladstone's Marnnea LaFave and Emma Delaire lost their first set to Erica Moore and Madi Mischica, 6-3, but they came back to win the next two sets, 6-2 and 7-5.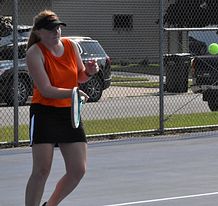 Gladstone's #2 doubles team of Emma Wagner and Alesha Maranger defeated Escanaba's Abby Hill and Grace Wickham, 6-4 and 7-5.

Escanaba clinched the team win by taking both #3 and #4 doubles flights. At #3 doubles, McKenna Bullen and Lillia Hughes defeated Gladstone's Montgomery Pepin and Maggie Buckley, 6-4 and 7-5. And at #4 doubles, Delaney McIntyre and Leslie Purcell defeated Gladstone's Lahna Castor and Sophia Rosa, 7-6 (6-2), 6-1.

"We're usually always pretty tough with Esky," Barron said. "All the girls are pretty even. They're working hard. I just want them to improve on one thing each day."

"Two evenly-matched teams that always show up for this match-up," Ogren said. "I wouldn't have it any other way."

Escanaba hosts Kingsford on Tuesday at 3:00. Gladstone visits Menominee at 11 a.m.

Click the thumbnails in the ARTICLE HIGHLIGHTS box above to see photos and videos, and hear comments from Gladstone Coach Ryan Barron and Escanaba Coach Chris Ogren.