Eskymos, Redettes Tennis Teams Play To 4-4 Draw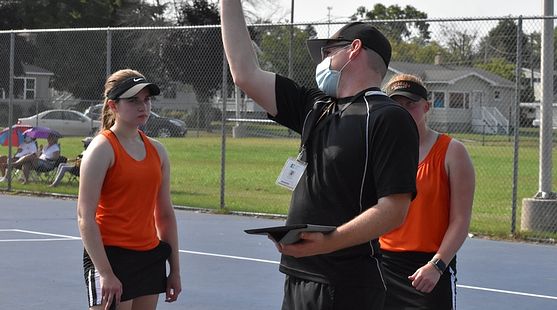 MARQUETTE---The Escanaba Eskymos and Marquette Redettes played to a 4-4 tie in girls tennis Thursday in Marquette. Both teams won two singles flights, and both won doubles flights. Four of the eight matches went three sets.

The marathon of the day was at #3 singles, where Marquette's Julianna Golshek defeated Escanaba's Ukiah Penegor, 1-6, 7-6 (8-6) and 6-3 in a match that took more than three hours.

"Ukiah never gave up, and played hard for every minute of an excruiciating match," Escanaba Coach Chris Ogren said. "She was absolutely exhaused by the end."

Marquette's other singles win was at #1 singles, with Campbell Kalio beating Escanaba's Jacey Moreau, 6-2, 6-2. The Eskymos got wins from Sophia Derkos at #2 singles over Ruth Hummel, 6-0, 3-6, 6-1; and at #4 by Amanda Beem over Lexi Hammerstrom, 6-1, 6-0.

There was also a split at doubles. Marquette's Zoey Brian and Bre Sandstrom won a marathon over Escanaba's Erica Moore and Madi Mishica in another marathon, 6-3, 4-6, 6-3. At #2 doubles, Escanaba's Gracie Wickham and Abby Hill rallied past Allyson LaBekke and Hannah Young, 2-6, 7-5, 6-2.

"(They) played their best tennis of the year today," Ogren said. "They have been getting better all year, and it was only a matter of time before they broke through and earned a win. I think they'll have way more as they continue to grow."

Marquette's #3 team of Elina Brazeau and Kaia Miller won in straight sets over Escanaba's McKenna Bullen and Anna Valiquette.

Escanaba's #4 doubles team salvaged the tie.