Kedsch Leads Carney-Nadeau Past BR-H Broncos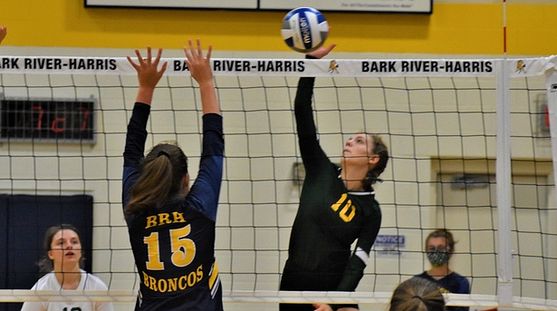 HARRIS---Senior Taylor Kedsch had 19 kills Tuesday to lead the Carney-Nadeau Wolves to a 3-0 win over the Bark River-Harris Broncos in girls volleyball action.

The scores were 25-20, 25-18, 25-18.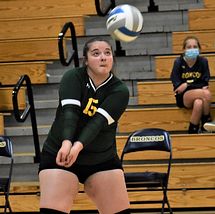 "The girls have had a great start to the season," Carney-Nadeau Coach Steve Tedsch said as his team improved to 3-0. "We're serving well right off the bat, which at this point of the season, can make a big difference. Some teams are just not ready for serve-receive. Once we're getting the ball to our setter, the offense is running real well right now with Liana (Blahnik) and Taylor (Tedsch)."

"It's very exciting to get these bigger games in right off the bat," Bark River-Harris Coach Jen Ives said. "It's a little nervewracking because we didn't have the open gyms like we would have in the summer. We couldn't go to and visit camps."

"We're not exactly where we'd like to be at this point. There's things we can improve on and we'll be able to face them again down the line."

The game isn't quite the same, with lots of social distancing. Girls are spaced apart on the benches on both sides of the court, the balls are constantly disinfected, and the fans in the stands are limited to less than 200. The fans all must (and did Tuesday) wear masks, as do the coaches.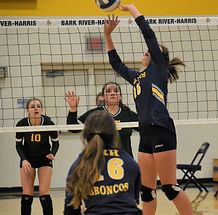 "We took a positive attitude to it because we are actually playing," Coach Tedsch said. "It could be like downstate, where the teams are not in the gym yet. They're practicing outside.They're not getting matches in. We've been able to do that, so we're very fortunate."

"They are so excited," Ives said. "I think the quarantine really opened their eyes. They just came back, ready to play, very excited to play, and get ready to work in the gym. It's a set of girls who want to play hard, so that's cool."

Bark River-Harris fell to 1-1 after beating Menominee last week. Carney now has wins over North Central, Forest Park, and now, BR-H. The Wolves have won all nine of their sets in the first three matches.

Click the thumbnails in the ARTICLE HIGHLIGHTS box above for photos, videos, interviews.