Eskymos Cruise Past Munising For Tennis Victory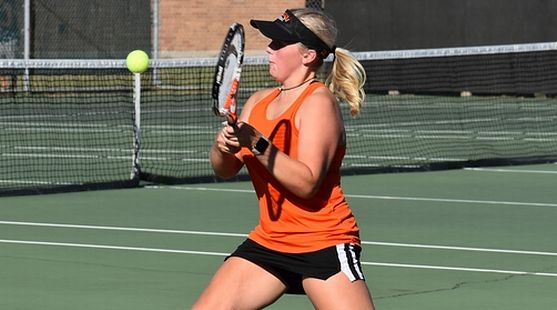 ESCANABA---The Escanaba High School girls tennis team won all four doubles matches and split the singles matches, and beat the Munising Mustangs, 6-2, on Wednesday.

"We played very well," Eskymo Coach Chris Ogren said. "Competitive doubles. We were able to sweep the doubles sets. All of our doubles showed up and played really well today. On the singles side, we went 2-2, but all the matches were nice and competitive, so it was agood day of tennis, with even matches that could have gone either way."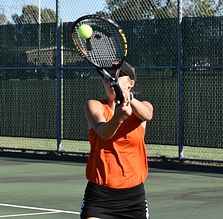 Escanaba's #1 singles Sophia Derkos defeated Munising's Logan Peters, 6-1, 6-2.

At #4 singles, Escanaba's Lizzy Sliva (pictured above) outlasted Emily Miles, 6-2, 7-5.

The Eskymos got a good showing at #3 singles from McKenna Bullen, who is normally a doubles player. She lost to Munisng's Jenna Matson, 6-2, 6-4. And at #2 singles, Munising's Mackenzie Richardson cruised to a rather easy 6-1 6-Love win over Amanda Breem.

It was all Escanaba in the doubles matches.

The #2 flight had the closest ending, after Gracie Wickham and Abby Hill easily won the first set, 6-Love.

The second set was a battle with Munising's Lori Mattson and Payton Coty, going to a tiebreak before the Eskymo duo won, 7-6 (6-2 in the tiebreak).

WEDNESDAY'S OTHER UP MATCHES
Gladstone 7, Gwinn 1
Negaunee 8, Westwood 0
Marquette 8, West Iron County 0
Ishpeming 8, Norway 0