Marquette Redmen Soccer Shuts Out Escanaba 8-0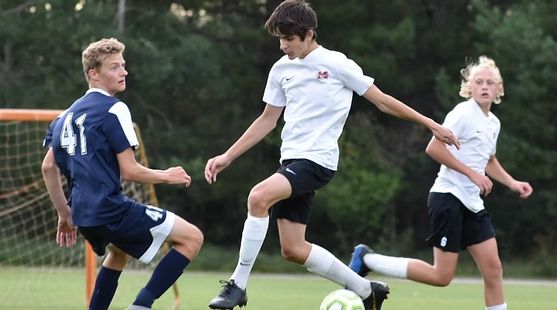 ESCANABA---The Marquette Redmen boys varsity soccer team traveled to Escanaba Thursday night for a boys varsity soccer game.

The game ended in a 8-0 Marquette mercy win at the half.

Goal scorers for Marquette were sophomore Nick Asmus from sophomore Max Dawson, sophomore Ezra Pickard from junior John Weber, senior Connor Johnson from Asmus, Pickard from junior Enzo Stabile, senior Lewis Goff from junior Nick Lindberg, Stabile from freshmen Ethan Sandstrom, sophomore Evan Sysco unassisted, and Sandstrom unassisted.

Senior Liam Jeevar tended net facing one shot.

"We did a good job spreading the ball around tonight with seven different goal scorers. Now we need to carry the momentum into Kingsford next week" - Coach Dan Salmon. Marquette travels to Kingsford on 9-08 and are 1 win 0 loss 1 tie on the year.
Photo - Marquette's Ben Gostomski steals a ball from an Escanaba Bayside player as Camden Larson covers behind. (Mary Sysco photo)