'THANKFUL TO BE PLAYING' Flivvers Top Braves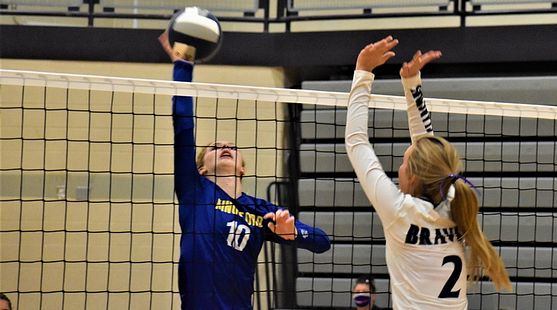 GLADSTONE---It was a scene that has never been seen inside the Gladstone High School Gym Thursday night as the Braves volleyball team opened its season against the Kingsford Flivvers. It was quiet, almost eerie.

No fans at all, except for the Braves and Flivvers JV players, who were watching after finishing their matches. Everyone wearing masks (other than the girls on the court and the refs).

No moms and dads. No boyfriends.

Just three media people, the players, the refs, and the scorekeepers.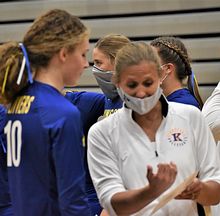 But despite all of that, Kingsford Coach Jaclynn Kreider was thankful that her girls, in the midst of the coronavirus pandemic, were able to be on the court at all. The Flivvers overpowered the Gladstone Braves, 3-0, on scores of 25-16, 25-7, 25-11.

While some other volleyball matches in the Upper Peninsula have been played with a couple hundred masked fans in attendance, this match was played with no fans in the stands per a decision by the Great Northern Conference athletic directors to do that for all conference matches.

After her Flivvers cruised to the victory in less than an hour's time, Kreider reflected.

"We just keep reminding ourselves that every day is a blessing, that we can come together and practice, or even play matches like tonight," Kreider said. "Knowing that tomorrow, something could change and we would not be able to play. So we're just so looking at every night as a great opportunity to be able to particpiate in the game that we love."

As for the match itself, the first game was the closest, with the Flivvers pulling away to win, 25-16. They easily won the next two games over a Gladstone team that didn't have much of a home court advantage.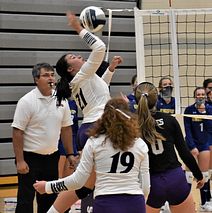 "This is only the third time in our own gym," new Gladstone Coach Averi Kanyuh said. "We had a lot of beach volleyball with everything with COVID. And we got to borrow Grace Church as a gym for a little bit. I think they (Kingsford) did really good with serving, Their hits were pretty hot, and our girls need to do better defensively and serve-receive, for sure, and work on passing."

Kreider says her team started slow, but agreed that their serving was the key.

"Once we got into our rythm, I felt like the girls did a great job," Kreider said. "Our serving was fantastic tonight. We really put them, I think, in a situation where they had to battle in serve-receive. We had a lot of aces, and so that really set the tone for us."

OTHER THURSDAY MATCHES
Escanaba 3, Menominee 0
Marquette 3, Rudyard 2
Carney-Nadeau 3, Mid Peninsula 0
Manistique 3, Munising 0
L'Anse 3, Westwood 1
Iron Mountain 3, Ishpeming 0
Superior Central 3, Big Bay deNoc 0
Calumet 3, West Iron County 0
Hancock 3, Lake Linden-Hubbell 0
Ewen-Trout Creelk 3, Dollar Bay 0

Click the thumbnails in the ARTICLE HIGHLIGHTS box above to see photos and videos from Thursday's Gladstone-Kingsford match.