HOLIDAY KICKOFF: Escanaba Rallies Past Felch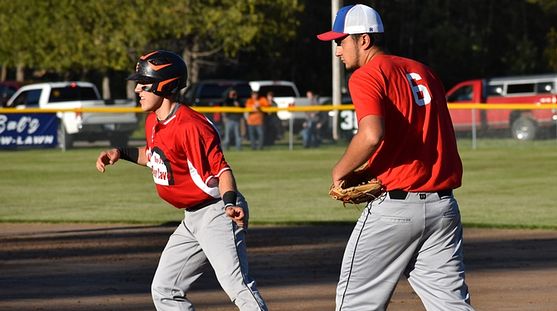 FELCH---The Escanaba "Mikey D's Beer Cave" baseball team scored four runs in the fifth inning to rally past the host Felch Rangers, 5-4, as the Labor Day weekend tournament began Friday night. Escanaba had just ten players available, and didn't hit the ball well, but they found a way to stay in the game early, and then pulled it out with a late rally.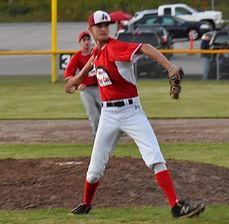 Felch took a 4-1 lead in the top of the fifth inning after a two-run single by Joe Linn and an RBI single by Ethan Blagic.

The lead didn't grow, though, because Escanaba shortstop Hunter Lancour made two great defensive plays, the last of which a leaping catch of a line drive headed toward center field with the bases loaded and two out in the inning.

Escanaba used several walks in the bottom of the fifth to get back in it, and after two straight batters were called out on strikes when they thought they, too, had walks, Tyler Skufca got what was the team's only solid hit of the game.

Skufca lofted one to left field that the outfielder took a step in on, and the ball sailed over his head, allowing Tyler Lawson and Jake LaFave to score. Then Devin Olsen hit a slow roller to second base that was booted, and the go-ahead run scored.

In the seventh inning, as darkness fell on Dickinson County, Elliot Danhoff came in to preserve the win. The Gladstone High School graduate and current University of Wisconsin-Superior pitcher was throwing gas, as he struck out two of the three men he faced to end the game.

Caden Alworden had two hits for Escanaba. Kevin Evosovich had three hits for Felch.

Alex Morehouse, a two-year Bay College player from Sault Ste. Marie, pitched two innings of solid middle relief and earned the win on the mound. Riley Lamb started and walked six batters in three-plus innings, but he stranded eight men and allowed only two runs.

The tournament continues on Saturday and runs through Monday.

Click the thumbnails in the ARTICLE HIGHLIGHTS box above to see photos, videos.