SUNDAY SPECIAL: Team 906, Channing Get Wins

FELCH---The Felch Labor Day baseball tournament continued on Sunday with a great game between the Marquette Minutemen and the Team 906/Jacobson Logging squad.

Team 906 won, 2-1, after Channing eliminated Escanaba earlier in the day, 6-1.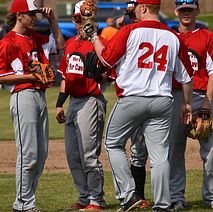 In the elimination game, Escanaba took a 1-0 lead when Tyler Skufca hit a ground rule double to the right field fence. The run eventually scored on a sacrafice fly by Bailey Lamb.

But Escanaba pitcher Hunter Lancour struggled, and was lifted after two innings. Lane Holsworth's RBI single tied it (although Escanaba left fielder Elliot Danhoff gunned a second runner out at the plate).

Luke Holsworth's hit gave Channing the lead, and Matt Wiitanen's grounder snuck past shortstop Collin Arnt to drive home two more runs.

Lane Holsworth pitched a complete game for the win. Lancour was relieved by Grant LaMarche on the mound. Lancour took the loss; LaMarche threw three innings of relief and allowed three runs.

The game was called in the sixth inning due to tournament time limits.

In the winner's bracket game, it was a pitcher's duel between Team 906's Ryan Boettcher and Marquette's Nick Dagenau. They both pitched complete games, and had great defense behind them as a stiff breeze blew across the field. No home runs happened. Team 906 took the lead in the fourth inning on a bloop single by Taylor Laurin to bring home a run.

But Marquette tied it in the fifth inning on a double by Kyle Mahlik, who scored on a wild pitch. In the sixth inning, Team 906 got the game-winning hit from 30-year-old Escanaba native Bobby Beauchamp with two out, after Dagenau had caught a line drive for a 1-3 double play with two men on.

In the bottom of the inning, Marquette got a hit from clean-up hitter Dan Sabin, and he stole second. But Boettcher picked him off of second base to end the ballgame.

Team 906 plays in the championship game at 2:00 CT/3:00 ET. Marquette will play in the loser's bracket final at 11:45 CT/12:45 ET against whoever wins the 9:30 a.m. game.

IRON MOUNTAIN TOURNAMENT---The Final Four is set for the U.P. Hardball Classic in Iron Mountain. The defending champion Fox Cities Saskquatches eliminated the Delta County team, 8-5, on Sunday, and then the Menominee Falls A's eliminated the host Iron Mountain team, 10-0. The semifinals on Monday will see Langsdorf face Fox Cities at 10 a.m. CT, and Hortonville battle Menominee Falls at noon. The winners will play at 2:00 CT.

Click the thumbnails in the ARTICLE HIGHLIGHTS box above to see photos, videos, and hear post-game comments from Beauchamp and teammate Ryan Johnson, who is also NMU's football quarterback.