Bay College Cross Country Teams Open '20 Season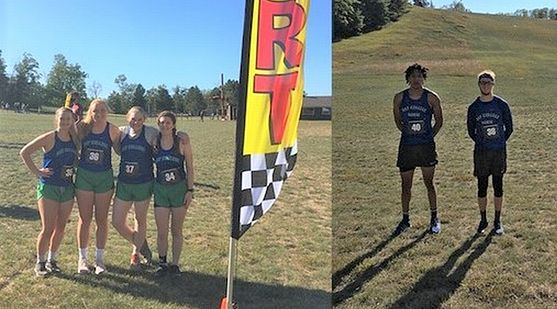 This story was written by Bay College SID Mike Pankow

GRAYLING--–The Bay College Norse Cross Country Teams began their season Friday evening at Kirtland Community College. Zach Rose (FR, Escanaba, MI) set the pace for the Norse with a second place finish. The Women's Team finished fourth out of five teams, while the Men's team ended in fifth place out of sixth teams.

Rose competed in his first ever cross country event and finished the 6K course in a time of 22:35.4. His time was 15.9 seconds off the pace of the race winner Brian Freeze (FR, Watervliet, MI) from Kellogg Community College. John Stevenson III (FR, Escanaba, MI) made his college debut with a final time of 39:27.4.

The event used a ghost scoring system in order to allow all schools involved to achieve a team score. Using this system, Bay totaled 125 points, which put them in front of Wayne State (137 points). Jackson Community College took first overall in team scoring, with just 31 points. Alpena Community College (61 points), Kellogg Community College (65 points), and Kirtland Community College (108 points) rounded out the field on the men's side.

The Norse women featured three first-time collegiate harriers. Bree Arsenault (FR, Hermansville, MI) set the pace for Bay with a time of 28:59.9. Sandra Boulton (FR, Carney, MI) finished in 32:27.3. Olivia Anderson (SO, Menominee, MI) was close behind with a time of 34:11.0, while Kaitlyn Millin (FR, Trenary, MI) rounded out the team scoring, crossing the finish line in 34:21.8.

The Norse team score of 79 points put them in front of Kirtland Community College (92 points). Jackson Community College finished with the lowest team score (27 points). Kellogg Community College ended the race in second place (40 points), while North Central Michigan College finished third (74 points).

"I'd call today's meet a big success," said Head Coach Jim Murtha. "Everyone did well and learned a lot. The day was definitely highlighted by Zach's second place finish, but everyone ran very well in what was most of our team member's first race of any kind. The weather was perfect and the course wasn't too hard, but far from easy. It was a great way to start the season and it will be nice to run it again in two weeks now that we are familiar with the course."

Bay College will take next weekend off before returning to Kirtland Community College on October 2. That event is scheduled to start at 4 pm.