Rapid River Girls Shoot To Victory On Senior Night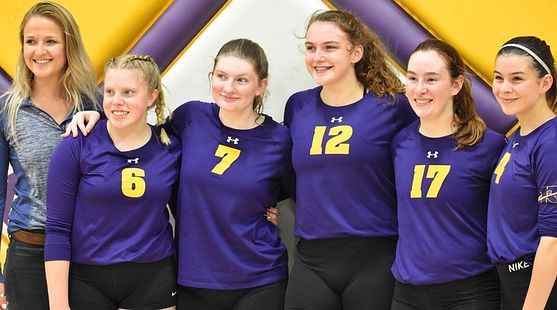 RAPID RIVER---The Rapid River High School volleyball team lost the first game to the Munising Mustangs on Senior Night Tuesday night, but won the next three games to pick up a 3-1 win. The scores were 20-25, 25-15, 25-14, and 25-22.

The Rockets impeoved to 3-3 on the season while Munising fell to 0-4.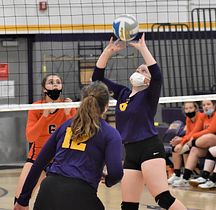 "We only had three matches, so it's a pretty slow start for us," Munising Coach Josh Cole said. "There's been a lot of mental mistakes for us so far early in the year. We're doing our best to catch up here. Now we have a more routine schedule coming up with a lot of Tuesday and Thursday games, so hopefully, we get some consistency."

Rapid River didn't play early, losing the first game. But they jumped to a 15-2 lead in the second game and rolled to rather easy wins in the second and third games. Munising bounced back in the fourth game and had the lead most of the way in an effort to force a decisive fifth game, But the Rockets scored seven of the final eight points to seal the win.

"I think we just had a slow start from Senior Night," Rapid River Coach Kristly Kerstner said. "But we served so much better after that, and we got a good roll going the rest of the night. This match was probably the best that we served so far this season, which led to a good game where we could use all of our hitters with our passes."

Both coaches admitted that it is hard for the girls to compete while wearing masks, as was ordered by Gov. Gretchen Whitmer two weeks after the season began. In the early season matches, players could compete without wearing masks, but wore them on the bench and at other times when not on the court. Now, the only ones without masks are the referees.

"It's tough," Cole said. "It's tough to tell the girls that they've got to wear a mask. But they've been good all summer wearing masks, and we just always remind them that they're blessed. They're playing volleyball in a gym right now."

"They struggle," Kerstner said. "We don't even know what tomorrow is going to bring. But I feel like they're doing well with it, all things considered."

Click the thumbnails in the ARTICLE HIGHLIGHTS box above to see photos and video highlights.