Gov. Whitmer Won't Reconsider Athlete Mask Rule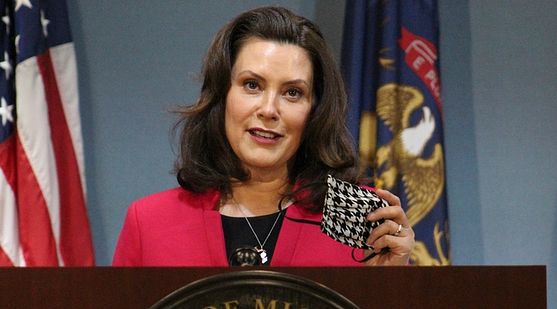 ESCANABA---Gov. Gretchen Whitmer said on Tuesday that she will not reconsider making changes to her executive order which requires athletes to wear masks while competing in sports like football and volleyball.

In an interview with RRN News, the governor said the tough rule is designed to protect kids from the virus, as many of the long-term effects of exposure are still unknown.

Some U.P. high school athletes, in particular volleyball players, have had a hard time breathing during their games since the rule took effect.

"It wearing a mask doesn't work with their athletics this year, then maybe they shouldn't be participating right now," Whitmer said. "I hate to say that. I know no one wants to hear that, and I don't like even saying it."

"But the fact of the matter is, the novel nature of this virus means we still don't know if these could be lifelong side effects for younger people who get this virus. That's why we want to protect them, and that's why we're doing everything we can to make sure they know what they need to do to stay safe."

Whitmer made the comments Tuesday during a visit to the Upper Peninsula, where she noted that the number of positive coronavirus test results has been "alarming" in recent weeks.

Many states require masks for athletes, but not while in competition. The Michigan High School Athletic Association initially required masks for athletes while on the bench, or elsewhere in the venue, but not during competition. Whitmer issued a new executive order two weeks after volleyball season began, and a week before the first football game, requiring the masks.

The MHSAA says it doesn't have the power to modify or change her order.

"They're making athletic masks that are making it easier to participate in sports and stay safe," Whitmer said. "We're making strides on all of these fronts. We just want to keep athletes safe."

Many U.P. football teams are using shields that are attached to their helmets, which allow them to meet the requirement. But the volleyball teams can't do that.

Officials do not have to wear masks while officiating, and they are not required for girls tennis, swinning and diving, and cross country.

The governor's order does not cover winter sports like basketball, wrestling, and hockey, but she said during her U.P. visit that "this is how we're going to be living for a while" and that she thinks it will take months to have restrictions go away. Whitmer extended the State of Emergency through Oct. 27 later in the day on Tuesday.

Click the AUDIO button to hear the governor address the issue.