Escanaba Football Team Rallies To Save Its Season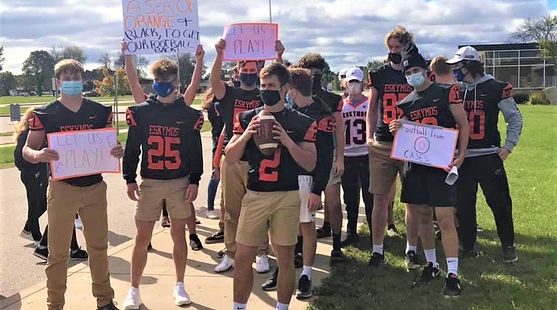 ESCANABA---Sone members of the Escanaba High School football team gathered at the school on Tuesday to plead with administrators to allow sports to resume immediately.

This after Superintendent Coby Fletcher decided last week to have junior and high school classes be delivered over the Internet for two weeks, and put on hold all extracurricular activies.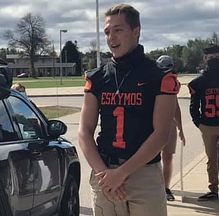 "We're just doing all we can to try to get our season back," Escanaba senior Bryant Maki said. "It got taken away from us. We didn't have anything to do with it. It's frustrating because we've done everything that we've been told to. We followed all the protcols on the field and in the locker room. Our team has zero cases. Our team's families have zero cases. Nothing's happened to us, but we still got shut down."

The football players, in particular, are urgently trying to get back on the field because they have not yet played a game, while every other school in the central U.P. has played at least one.

They also are concerned that only playing two or three games will not be enough for them to qualify for the state playoffs, which have been expanded this year to include 512 teams, rather than the usual 256.



Fletcher provided this statement to RRN News on football team's rally: "We understand and appreciate how much our athletes want to continue their seasons. We look forward to resuming late next week."

That statement would indicate that the Eskymos will be able to play Ludington next week, plus Marquette and Gladstone to close the season. All three games, though, are on the road, which means no home games for the Class of 2021.

The EHS volleyball team hasn't played in nearly two weeks, and even the cross country team had its meet cancelled Saturday and the Eskymos did not compete in Munising on Tuesday. In fact, top Eskymo runner Derek Douglas was one of the students at the rally.

Several volleyball players and cheerleaders also helped to have their voices heard.


In his Tuesday press release, Fletcher said that "COVID-19 spreads as actively among athletes and other participants in other extracurricular activities as it does in school." He called the pause "unfortunate but necessary."


Some parents have taken to social media in the past several days to demand a reversal of the decsiion, and some have called on the Escanaba School Board to intervene.

Click the video and photo buttons above to see more.