Gladstone Girls Shake Off Slow Start; Beat Maroons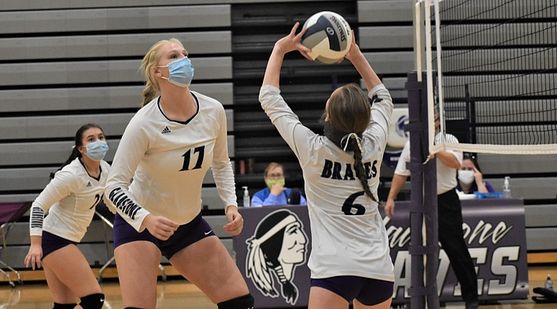 GLADSTONE---The Gladstone High School volleyball team lost the first set of its Great Northern Conference match against the Menominee Maroons Monday night, but Megan Crow led a big turnaround as the Braves posted a 3-1 (19-25, 25-10, 25-16, 25-15) win.

Crow, a Grand Valley State University recruit, had a rough first set when it came to hitting percentage. But she dominated the final three sets with multiple powerful spikes.

Fellow Braves senior Ahna Larson says her team got its act into gear after that first set.

"We started really getting our passes up, and we started getting our kills in," Larson said. "Just the communication is a really big part of our success. We're really unsure what's going to happen (with COVID-19) every game, but we just take it like it's our last every single time. It's really special that we even get to have a season, so I'm thankful for that."

The Braves will travel to Iron Mountain on Thursday.

Click the thumbnails in the ARTICLE HIGHLIGHTS box above to see photos and videos, and hear Ahna Larson's post-game comments.