Bay College Cross Country Teams Run Downstate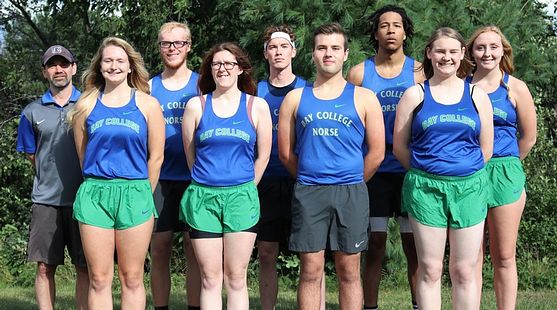 This story was written by Bay College SID Mike Pankow

GRAYLING, MI – The Bay College Norse Cross Country Team returned to action Friday at Kirtland Community College. The men would finish in tenth place out of 13 teams, while the women ended up in eleventh place.

Despite colder and damp conditions, Olivia Anderson (SO, Menominee, MI) made a marked improvement from her time on the same course two weeks ago. Her time of 32:45.9 was approximately 85 seconds faster than her previous mark.

This week featured a much bigger field, and Anderson was the 56th runner to cross the line out of 66 competitors. Close behind, in 57th place, was teammate Kaitlyn Millin (FR, Trenary, MI). In her collegiate debut Millin posted a time of 34:30.0 on the 5K course.

Once again, the event featured ghost scoring, allowing all teams to achieve a team score. Bay's total of 287 points put them in front of Wayne State (311 points) and Kirtland Community College (318 points).

Grand Rapids Community College took the team victory in the event with 38 points. They were led by Kiah Becker (SO, Grand Rapids, MI), who led all runners with a time of 21:07.1.

Although the men ran at Kirtland two weeks ago, this time the course was an 8K length as opposed to the 6K route they ran previously.

The Norse were led by Zach Rose (FR, Escanaba, MI). He finished in 13th place with a time of 28:48.5. Matt Sedenquist (FR, Gladstone, MI) posted a strong college debut with a time of 31:36.8, good for 44th place. Alex Morehouse (SO, Sugar Island, MI) and James Alexander (FR, Sault Ste. Marie, MI) ran a similar pace in their first outing of the season.

Alexander posted a time 36:35.8, while Morehouse finished closely behind him with a time of 36:41.2. John Stevenson III (FR, Escanaba, MI) rounded out the scoring for the Norse. He ended his day with a time of 50:02.6.

The Norse picked up 264 points which put them ahead of three teams. Kellogg Community College finished with 293 points, Kirtland Community College amassed 296 points, and Wayne State ended with 377 points.

The team from Grand Rapids Community College would complete the sweep on the day with a first-place finish on the men's side as well. Joshua Kipkoech (FR, Iten, Kenya) finished 35 seconds ahead of the next runner and posted a time of 27:08.4. They finished four runners in the top ten and dominated the team score with just 41 points.

The Norse will be back in action next weekend when they host their invitational on Saturday.