Marquette Junior Wildcats Salvage Weekend Split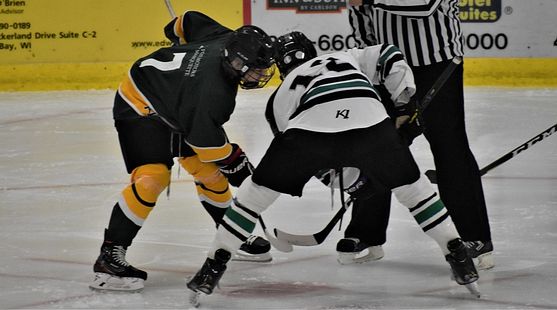 ASHWAUBENON, Wis.---The Marquette Junior Wildcats hockey team jumped to a 3-0 lead and held on to beat Chippewa Falls, Wis., on Sunday, in suburban Green Bay. Marquette ended up finishing with a 2-2 record in the three-day event at the Resch Olympic Pavillion.

These are the high school-aged kids who are getting ready for their regular season in late-November. One Escanaba boy, Nick Kolich, has joined the Redmen players for this fall.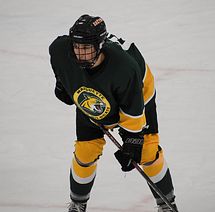 Marquette opened the tournament with an overtime win over Calumet and a loss to Chicago.

Then Saturday night, the Junior Wildcats ran into a tough Copper Country team, with players from Houghton, Hancock, and Calumet.

Less than two minutes into the game, Copper Country got on the board first as Mason Mickesch stole it in the corner, and Trent Ledgerwood jumped on the loose puck and put it home. Copper Country poured it on with shot after shot in the first two periods, but Marquette goaltender Brennen Hakkola kept it close. He made 34 saves all together.

In the second period, Copper Country woeked the power play from the corner and Chad Nordstrom was set up in front of the net. He poked it past Hakkola to make it 2-0.



Marquette battled back. Dylan Baldwin carried it up the left wing, took it behind the net, sent it to the far point for Joe Dematia, who took a shot. It was blocked, the puck sat in front of the net, and Carsen Hayes jumped on the loose puck and put it home.

Marquette was within 2-1, but couldn't get a power play goal in the third period. Copper Country knocked in a late goal plus an empty netter, and they skate to a 4-1 win.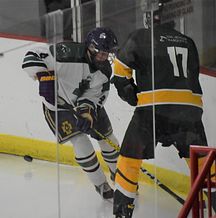 On Sunday, it was an early rise for the Junior 'Cats as they faced Chippewa Falls. And in net for Marquette: Hayes, who scored a goal Saturday night. He was steady early, and his teammates gave him a 3-0 lead on a goal by Joseph Luke from the left faceoff circle, and two goals from Baldwin...the second of which was blasted off of the post and into the net.

The Wisconsin boys responded just eight seconds later, with a breakaway goal from the center ice faceoff, with a shot that also went top shelf. Chippewa Falls scored in the third period, as well, on a beautiful goal mouth pass with six minutes to play.

But Hayes stopped a breakaway with less than five minutes left and the Chippewa Falls team took two straight penalties, covering four of the final five minutes.

Marquette won three games last weekend in Traverse City, and will now take next weekend off.

Click the thumbnails in the ARTICLE HIGHLIGHTS box above to see photos and videos from the last two games of the weekend.