Bay College Runner Rose To Compete At Nationals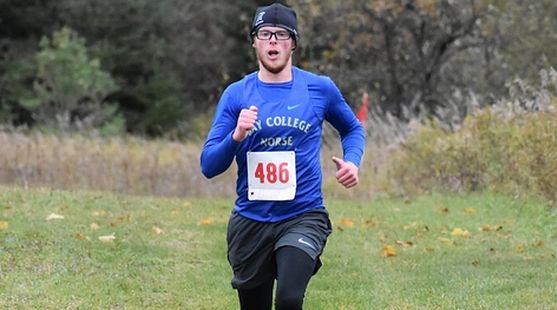 This story was written by Bay College SID Mike Pankow

ESCANABA---Prior to this season, Zach Rose (FR, Escanaba, MI) had never ran in a competitive race of any kind. On Saturday, November 14, he will represent Bay College in the NJCAA Division 2 National Championship Meet in Fort Dodge, Iowa.
Rose is currently in his second year as a student at Bay College, and got involved in the Athletic Department last season as a Student Assistant Coach for the Men's Basketball Team. During his free time he has often been seen around campus running as a hobby. It was an easy connection for the coaching staff to urge Zach to participate in Cross Country this season.
Knowing the work ethic and dedication of Rose, no one doubted he would do well, but an invitation to the National Championship was not on his radar. "Going into it I expected to be middle of the pack or just be on the team to help them compete, so I was not really expecting [an invitation to the National Championship]."
The first meet saw Zach finish far from the middle of the pack. At Kirtland Community College in Grayling, MI, Rose finished the 6K course in 22:35.4 and came in just 15 seconds behind the leader in second place. Despite the early success, he found out quickly that he had some work to do. "I had to learn a lot, but it was pretty cool. The first meet I went to I didn't know what to expect, but I learned really fast how to pace myself and what the sport was like. I didn't know how tough it really is…it's hard because half way through your legs start to burn and you have to be mentally tough."
With two weeks between the first and second meet, Zach went back to work and cited Head Coach Jim Murtha as one of the keys to his development. "Coach Murtha helped me a lot. At the first meet I took second, which we were super happy with, but one thing that I didn't do well, was that I needed to pace myself. I kind of took off too quick and three quarters of the way through I kind of got tired, where I could have been fresher at the end. So, we talked about that a lot and he gave me different workouts that would really help my stamina. He gave me all sorts of workouts and stretches to help me reduce my time."
The Norse were back at Kirtland two weeks later, but this time ran a full 8K course. Zach paced the Norse with a time of 28:48.5 and crossed the finish line in 13th place.
Bay College then got the chance to host their own event. Cold and windy conditions slowed times, and although he was over a full minute slower than the previous week, Rose finished the course with a time of 30:02. Not only was it good enough for his first career win, he came in two minutes and thirteen seconds ahead of the second-place finisher. His strong performance there helped lead the Norse to a team win in the event as well.
The Norse finished their regular season in Muskegon, MI at the Jayhawk Invitational. Bay saw time improvements team-wide, including Rose who posted his best time of the year with a 28:08.4 finish. It was good enough to place him at 46 out of a field of 113.
"I was happy with the season having never ran before," said Rose. "The goal every single week was to get faster and faster. I was pretty happy when I went from the first week finishing second to competing with some good schools. The meet at home I was a little bit slower, but the goal was to get close to or faster than 28 [minutes], and I was 28:08 the last meet of the season, so I was pretty happy with that."
"I thought that Zach had an incredible season considering he never ran a race of any kind before this season," said Coach Murtha. "He improved throughout the season and learned a lot. I am very excited to see how we will do against the competition at Nationals."
Rose will be the third Cross Country Runner to represent Bay College at the National Championship in school history. In 2018 Zoie Berg (Gladstone, MI) and James Young (Gladstone, MI) competed in the event held in Garden City, Kansas.