SIGNING DAY: Eskymos' Kamin Signs With GVSU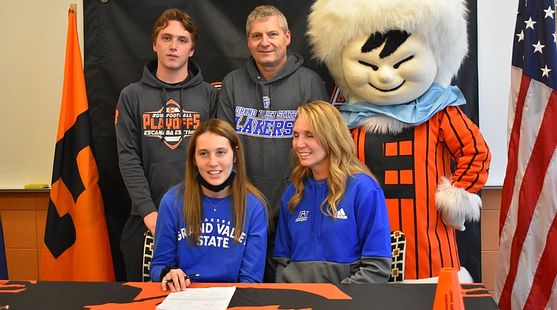 ESCANABA---Escanaba High School multi-sport athlete Nicole Kamin signed her National Letter of Intent on Wednesday to play basketball at Grand Valley State University.

Kamin also played softball and volleyball at Escanaba, but committed earlier this year to GVSU for basketball.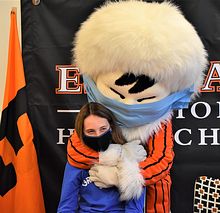 "I'm so excited. I'm glad it's finally official," Kamin said. "I'm ready to get down there. I love the campus, the players, the coaches. It took a lot to get here, from my family, my friends, my teammates, and my coaches, all of them got me to where I am today. I defibitely wouldn't be here without them."

"She's an excellent athlete," Escanaba Coach Mike Beveridge said. "She's got God-given ballot. But more than that, she's a caring person. Just an easy, coachable person. She plays with her heart and soul every game."

Kamin will join her friend, Gladstone's Megan Crow, at Grand Valley, after Crow also signed on the dotted line on Wednesday across the bay in Gladstone.

"I'm really excited that Megan is going there," Kamin said. "I'm glad that we get to finally be on the same team."

At Wednesday's event, Kamin received a phone call from another top Eskymo athlete: 2020 graduate Gabi Salo, who is now in her freshman season at the University of Wisconsin.

Beveridge believes that Kamin will adapt well to the NCAA-Division Two level of competition.

"Her quickness, at our level, is outstanding," Beveridge said. "When she gets down there, she's going to have girls just as quick and just as athletic. But, you know what? She's a winner. She's a great person, and she'll do very well there."