Michigan Tech Completes Hockey Sweep Of NMU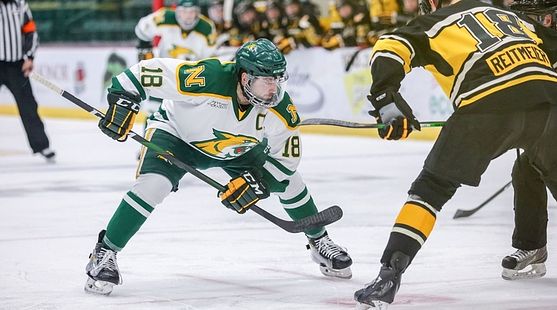 This story was written by MTU Athletics; NMU Photo

MARQUETTE, Mich. – Michigan Tech picked up its first sweep of the season after a 3-1 win at Northern Michigan Saturday (Dec. 19). The Huskies have now won three straight and improved to 4-3-1 going into the Holiday break. Tech won its fifth straight game at the Berry Events Center and has the most consecutive road wins in a row in series history.

"It's good to see we can play on this big ice," Tech coach Joe Shawhan said. "We give out awards after the game and tonight it was hard to pick. Everyone played so well. Broetzman was excellent though. He played his best weekend by far and got us started tonight in the first period."

Alec Broetzman scored his second of the season to give Tech the lead 13:00 after puck drop. A shot by NMU sailed wide and wrapped out to the neutral zone. Broetzman picked up the puck, carried it into the zone, and fired a wrist shot to the far post for his 26th career goal.

After no scoring in the second period, Brian Halonen gave the Huskies a 2-0 lead 4:01 into the third with his second of the weekend and third of the season. Arvid Caderoth tallied his first collegiate point with a setup feed to Halonen. Eric Gotz added the secondary assist.
NMU (1-2) got on the board 2:38 later when Vincent De Mey scored from David Keefer and Colby Enns.

Tommy Parrottino quickly answered 2:09 later to get the two-goal lead back. Justin Misiak dumped the puck into the corner where Parrottino picked it up and carried it around the back of the net and flipped in his second goal of the weekend, second of the season, and 22nd of his career.

Tech dominated in shots through the first two periods 24-11 and held a 32-22 advantage at the final horn.

Blake Pietila earned his third win in a row with 21 saves. He enters the Holiday break sixth in the nation with a .955 save percentage and seventh with a 1.43 goals-against average and winning percentage (800). Connor Ryckman had 29 saves for the home team.

Both teams were whistled for four penalties with NMU having a major called on them. Tech was 4-for-4 on the penalty kill and 0-for-3 on the power play. The Black and Gold have the second-best penalty-killing percentage in the nation.

The Huskies open the New Year hosting Alabama Huntsville on January 2-3 at the MacInnes Student Ice Arena to begin conference play.

NMU travels to Ferris State on December 30.