WELCOME BACK: Carney Volleyball Wins Q-Final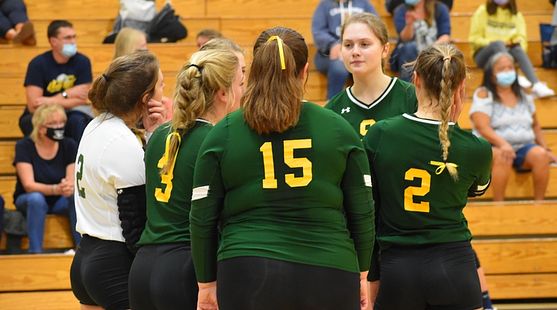 MANISTIQUE---The Carney-Nadeau High School volleyball team returned to the court on Tuesday, and picked up where it left off before the shutdown two months ago.

The Wolves won their Division Four state quarterfinal game over Rudyard, 3-1, in Manistique.

The scores were 25-21, 25-16, 27-29, 25-18.

"I'm really proud of the girls," Carney-Nadeau Coach Steve Tedsch said. "We weren't as sharp as we were in November. But we've only had six days of practice (since state sports shutdowns ended). It looked that way for both teams tonight. Our kids did a great job at it. It felt more like a pre-season tournament. But, we had our moments where we looked great."

It was a rematch of the 2019 state quarterfinal, which Rudyard won.

"I think, offensively, we're stronger this year," Kedsch said. "They struggled a little when we were hitting the ball. We've had plenty of time to scout them and watch game film. We felt if we could attack the ball, that we could give him some trouble, and we did."

Carney-Nadeau advances to the state semifinals on Friday at Kellogg Arena in downstate Battle Creek. The Wolves will face Auburn Hills Oakland Christian from suburban Detroit. The Lancers defeated Ubly, 3-1, in another quarterfinal Tuesday night.

"We actually went down in 2018 as coaches," Tedsch said. "The coaching staff learned a lot from that. I think we can better prepare the team. I think it's great for our program. The younger kids look up to the older kids. It will help to get more kids into our program."

The Carney-Nadeau vs Oakland Christian match starts at 2:00 ET/1:00 CT on Friday.