Lake Superior State Tops NMU To Win WCHA Title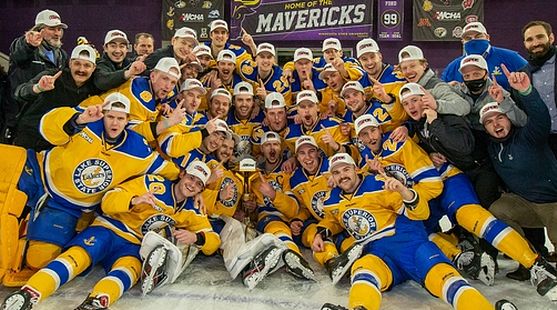 Click the thumbnail to see the post-game press conference. (LSSU Photo)

MANKATO, Minn.---The Lake Superior State University hockey team won the 2021 Western Collegiate Hockey Association Tournament championship Satirday night to earn the program's first ever WCHA Championship and secure an automatic bid into the 2021 NCAA Division I Men's Ice Hockey National Tournament.

The Lakers beat the Northern Michigan Wildcats, 6-3, in Mankato, Minn., to win a conference championship for the first time since the 1994-95 season and advance to the national tournament for the first time since the 1995-96 season.

Ashton Calder led LSSU ith a hat trick while Dustin Manz, Brandon Puricelli, and Jacob Nordqvist each tallied a goal in Laker victory. Goaltender Mareks Mitens backstopped the team with a 25 save effort in the championship win.

LSSU took a 4-0 lead before Andre Ghantous scored on the power play with 43 seconds left in the second period to get the 'Cats on the board. Then early in the third period, AJ Vanderbeck scored to bring NMU to within 4-2. That's as close as the 'Cats would get however, as Calder essentially put the game away with a shorthanded goal at the 11:04 mark.

David Keefer brought NMU to within 5-3 with 4:08 left before Calder completed his hat trick with 2:36 left on the clock.

The loss ended the sixth-seeded Wildcats' Cinderella run to the conference finals, as they completed their season with an 11-17-1 record.

LSSU is now 19-6-3 and awaits the NCAA tournament schedule, which will be announced Sunday evening.