PEDAL TO THE METAL: Eskymos Blast Gladstone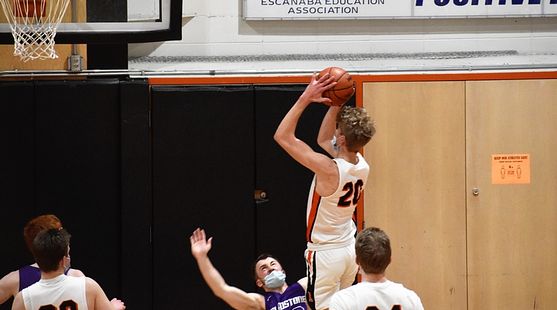 Click the thumbnails to see photos and videos, and hear post-game comments from Gladstone Coach Mike Cretens and Escanaba's Colin Hudson.

ESCANABA---The Escanaba High School boys basketball team led from start to finish on Thursday, squashing the Gladstone Braves, 77-43, in the MHSAA Division Two district semifinals at the Escanaba High School Gym.

Colin Hudson scored the first seven points of the game and led all scorers with 28 points as Escanaba advanced to Saturday's district championship game against Negaunee.

Escanaba scored 28 points in the first quarter to take a 28-16 lead, and the game was never closer from there. Brandon Frazer nailed three triples for nine points, and Connor Smale, Trevor Brown, and Carter Hudson all scored eight points as Escanaba improved to 14-2 on the season. Rane Castor led Gladstone with 15 points. The Braves finished with a 7-7 record.