NAILBITER: Norse Women Battle Back For Victory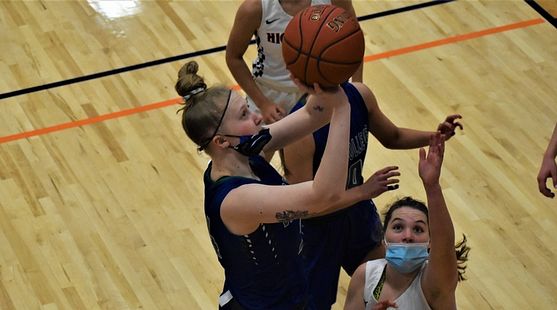 FREEPORT, Ill.---The Bay College Norse women's basketball team rallied from ten points down in the fourth quarter to beat the Highland Community College (Ill.) Cougars, 68-67, Saturday afternoon in Freeport, Illinois.

Holly Wardynski scored the go-ahead basket with 9.6 seconds left, then Lauryn Blomiarz tapped a baseline pass to Kennedy Englund for the steal that ended the game.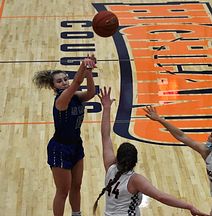 "We knew coming in it was going to be tough," Norse Coach Matt Gregory said. "They do a lot of nice things.They have an inside-out game that's pretty tough to cover. A lot of different personnel and different looks. Some people that we didn't think would step up and knock down some shots did for them.We did a nice job of kind of regrouping and getting back in, and grinding one out."

"I felt good coming into it," sophomore Madison Olsen said. "I knew they were a really, really good team.I knew that we all had to bring a lot of aggression and be quick on our defense, for sure, because they're a quick team. We knew we had to keep grinding. We were in it the whole game. There's no point to give up when you're down by ten, or anytime actually."

"I think we were just really hungry for a win," freshman Kennedy Englund added. "We haven't had a win in a long time. So we were all really hungry, and locked down. We've had some good, competitive practices, and I think that led into the game."

The Cougars got off to a strong start, as Abby Barr scored her team's first seven points. They took an 11-3 lead when Barr scored her ninth point and the Norse switched up on their defense.
Trish McGuire, who missed a good chunk of the season with a finger injury, made three triples to bring the Norse to within 19-14 in the final minute of the first quarter.
The Norse fell behind by eleven as Emily Mandamin made two triples for the Cougars, but Bay was able to stay in the game because Sandra Boulton went to work inside. She scored three baskets inside and hit a base-line jumper for a total of eight points in the second quarter.

A Cierra Molina triple and a Holly Wardynski basket in the paint brought Bay to within 32-28 late in the second quarter. The Cougars led at the half, 37-30.

The second half was back-and-forth, with the Cougars answering several diffrerent Bay runs. Two baskets by Wardynski tied the game, and then Bree Arsenault drained a triple to give Bay a 42-41 lead with 3:59 left.

The Cougars responded, however, as Riley Klecker came off the bench and scored seven straight points, including one at the end of a shot clock, to give her team a 53-47 lead entering the fourth quarter.

Highland (13-5) scored the first two buckets of the fourth quarter to take a 57-47 lead, prompting Gregory to call a time out. The Norse responded with a 9-0 run, with Englund draining a triple and Bloniarz knocking down two free throws to cut the deficit to 57-56.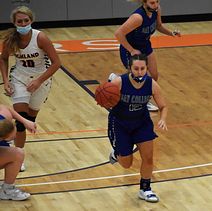 The Cougars responded with another spurt on three baskets by Emily Mandamin to make it a 63-58 game. The Norse went on an eight point run, with Englund nailing a triple and Madison Olsen swishing a 23-foot triple from the top of the key, giving Bay a 66-63 lead with 1:27 to play.

"It was definitely deeper than I thought it was," Olsen said. "I was like: I'm shooting this, and it's going to go in. And it did!"

Highland was able to get a quick basket, and then a steal, leading to a driving layup by Mandamin with 30 seconds to play, putting Highland ahead, 67-66.

The Norse ran a play to use as much clock as possible, with Wardynski banking one home in the lane with 9.6 seconds to play. After a time out, the Cougars inbounded the ball, with Bloniarz and Englund trapping Madison Zadro on the baseline. Englund stole the ball, and that's how the game ended.

"We put two words up on the board," Gregory said. "Confidence and pride. On offense, we needed to have some confidence and believe that you can knock down some shots. On defense, I mean, you've just got to have some pride. Not just rely on help defense.You've got to make sure 'my girl is not scoring on me tonight' and have that attitude. I thought they did a very, very nice job of coming out here and actually responding."

McGuire had 12 points, Boulton added 11, and Wardynski and Nloniarz each chipped in ten points. Bloniarz also led in rebounds with eight.
Bay improved to 5-10 on the season. The Norse will close the regular season with a home game Sunday afternoon against Kankakee (Ill.) Community College. Tip-off is 1:00 and it will be broadcast on Maverick 106.3 FM and www.radioresultsnetwork.com.