McGuire Triple Helps Norse Hold Off Kankakee CC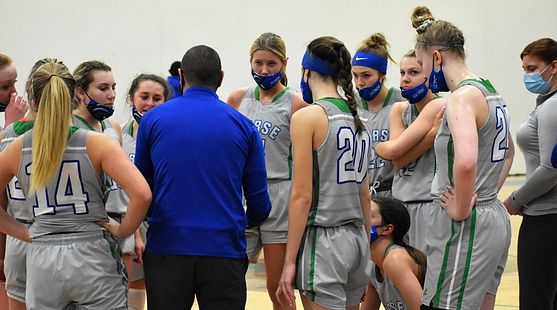 Click the thumbnails for photos and videos, and post-game comments from Trisha McGuire and Coach Matt Gregory

ESCANABA---The Bay College Norse women's basketball team pulled out their second nailbiter victory in as many days over an Illinois school, beating the Kankakee Community College Cavaliers, 55-52, Sunday afternoon at the Bay College Gym.

Sunday's win came after the Norse built a huge 19-point lead and then needed a three-point basket from Trisha McGuire with 14 seconds left in the game to break a 52-52 tie.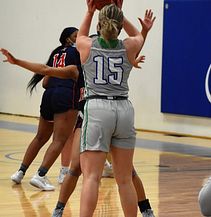 "We knew it was not going to be easy and we went into halftime a little more relaxed than we have been going into halftime in other games," Norse Coach Matt Gregory said. "I wanted them to not get complacent about it (big lead). But, 20 more minutes is a lot of minutes of basketball. We had to make sure we got out there and finished the game out, and Kankakee came back and had a lot of fight to them. They made us have to make some different changes defensively at different times."

"We had a huge lead and we came into the locker room kind of settling for that lead," McGuire said. "They caught up and got really hyped. But we were not about to let them win!"

The win came 22 hours after the Norse beat Highland, 68-67, down in Illinois, allowing the Norse to finish the regular season with a 6-10 record and gain momentum heading into Wednesday's regional semifinal matchup against undfeated Rochester Tech (Minn.).

Then, for the second straight day, the Norse got a defensive stop on their opponent's final possession to seal a victory.

The Cavaliers, who started the season ranked in the NJCAA Top 20 before beung beaten twice by the Norse, came out sluggish in this third match-up. They did not score a basket in the first quarter, getting just one free throw and trailed, 13-1, after the first ten minutes. Sandra Boulton had three baskets and Lauryn Bloniarz scored twice in that first quarter for Bay.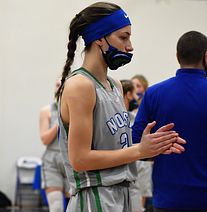 Kankakee finally got a field goal 90 seconds into the second quarter as Brandi Hudson broke the ice. She had another basket late in the second quarter, but those were the only two the Cavs had in the first half. Fortunately for the visitors, they made nine of ten free throw attempts to stay relatively close. Bay led, 27-13, at halftime.

The Norse rolled to their biggest lead of the game, 19 points, at 37-18, midway through the third quarter, after McGuire knocked down a triple. But things changed from there.

Bay led, 40-22, before Emma Morts got the Cavaliers going with a banked-in jumper. Then T'Laizha Morris went to work, scoring ten points in the quarter, bringing Kankakee to within 44-37 entering the fourth quarter.

The Norse had problems navigating the Kankakee full court press and Kankakee chipped away at the lead. Bay was clinging to a 52-46 lead when Hudson scored inside twice, and then after another turnover, she scored a pair of free throws to tie the game with 27 seconds left.

Gregory called for his team to run some clock and execute a play toward the basket, similiar to Saturday's last-minute possession that ended on a Holly Wardynski go-ahead bucket. This time, though, Gregory was out of time outs, and the Norse used only half of the clock.

Bloniarz drew a double team on the baseline and kicked it into the right corner for McGuire, who sank the triple to put her team in front, 55-52, with 14 seconds left.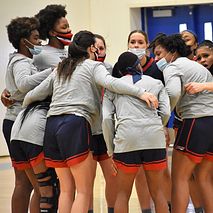 "I wanted to run some clock, possibly have a screen set up for Holly going to the basket, and then have either Cierra or Trish pop up for three's." Gregory said. "It was a little bit earlier than we anticipated. We're still a young team and learning about clock management. I was worried that we left them too much time."

"As many people know, I've been out almost this whole season (injury)," McGuire said. "So I was really hungry to come back. It felt good. It pays off. I just screamed "Lauryn Lauryn!" because she was getting double teamed. She popped it and I shot it, and it went in."

The Cavs' longtime coach, Donnie Denson, called a time out to set up a play. But they nearly had the ball stolen by Cierra Molina, then stumbled on the dribble, and eventually had to settle for a desperation triple that missed at the final horn.

The Norse did not have a player score in double figures. Bree Arsenault ended up with nine points on three triples. Bloniarz had eight points and seven rebounds. McGuire had six points and added six assists Boulton contributed nine points and four rebounds.
Kankakee (9-8) got 26 points from Hudson and ten points from Morris.

"I knew she (Hudson) was going to come back," Gregory said. "Good players do. She knew she was held to seven (points) last time and it was a big reason why they lost that game and she wasn't going to go out that way tonight."

Bay will host Rochester Community and Technical College in the NJCAA Region 13 semifinals Wednesday night. For the first time this season, fans will be allowed at the game, although it will be limited to two tickets per player.

"It's going to be a different feel," Gregory said. "You get a few people in this gym and it gets pretty loud. Having that crowd factor is going to be a very, very good thing. I just want to make sure that the players keep playing their game and they don't try to do too much because they've got someone in the stands watching."

"I'm super excited," McGuire said.

Game time is 7:00. It will be broadcast on Maverick 106.3 FM and on-line at www.radioresultsnetwork.com.