Poor 4th Quarter Dooms Norse Women In Regional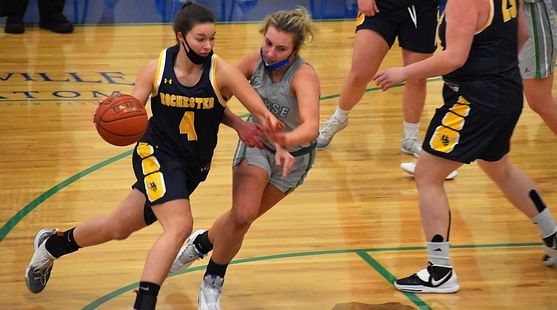 Click the thumbnails to see photos and videos, and hear post-game comments from Coach Matt Gregory and halftime interview with Lauryn Bloniarz.

ESCANABA---The Bay College women's basketball team played three strong quarters against the undfeated Rochester Community and Technical College Yellowjackets in the NJCAA Region 13 semifinals Wednesday night.

But the Norse couldn't score in the fourth quarter and lost, 64-46, at the Bay College Gym.

The Yellow Jackets came in with a 14-0 record and were ranked tenth in the country, but Bay played their best three quarters of the season to stay in the game. The Norse made nine triples, and avoided giving up too many scoring runs to the RCTC team.


RCTC led, 15-12, after one quarter, before the Norse managed to tie the game at 25-25 at halftime. Holly Warrdynski knocked down two triples in the third quarter to give Bay a 31-25 lead, and the Norse seemed to break the Yellow Jacket press.

RCTC's Olivua Christianson scored 13 points in the first half, and she continued to play tough in the third quarter. She scored eight more points and had two "and-one baskets" in the quarter. Bay led, 39-36, after Cierra Molina knocked down a triple, but RCTC went on a 7-0 run to go ahead 43-39, capped by Christianson's second three-point play.

The Norse were down just 45-43 entering the fourth quarter before things went south, as they were outscored 19-3 in the final ten minutes.

The Yellow Jackets went on a seven point run before Wardynski nailed another long three-pointer to close the gap to 50-46. That's as close as the Norse would get, as they did not score another point the rest of the game, and RCTC put 14 points on the board, with Myia Ruzek scoring ten of them on two triples and a pair of lay-ups.

Christianson ended up with 25 points and Ruzek chipped in 17 for RCTC. Kandace Sikkink added 13 rebounds to go along with five points.

They will play in a regional championship game on Sunday against a United Tribes (N.D.) team that went 1-20 in the regular season but rallied to upset Dakota-Bottineau (N.D.) Wednesday night.

The Norse finiahed their season with a 6-11 record. They were led by Wardynski's 11 points and Molina's ten points. Trish McGure had five renounds and three assists.