Bay College Opens Regional With Win Over Tribes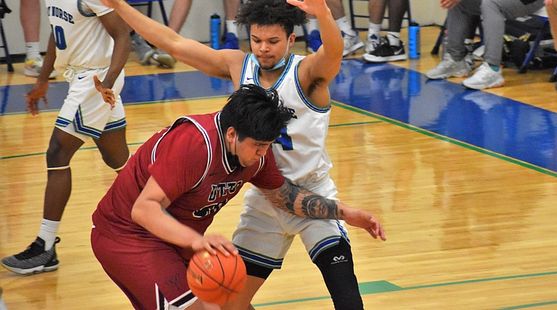 Click the thumbnails to see photos and video highlights, and hear post-game comments from Matt Wagner, Didier Ngambo, and Coach Matt Johnson. Also hear Wagner's halftime interview.

ESCANABA---The Bay College Norse men's basketball team led from start to finish on Saturday to beat United Tribes Technical College (ND), 82-58, in the NJCAA region 13 semifinals. It was the first-ever playoff win for the Norse basketball program.

The Norse scored the first seven points of the game and never looked back against a Thunderbird team that had seven of its 15 players not make the long 14-hour trip from Bismarck, N.D. The Thunderbirds were also playing their second game in a short period of time, after having beaten Gogebic Community College Friday night.


Matt Wagner was on fire for the Norse, throwing down 30 points, including seven three-point baskets. The only other player in double figures was Chris Dobessi with ten points.

All but one of the Norse players on the roster scored at least one point, and the one who didn't, Jibril Ndiaye, provided strong defense on UTTC's top player, Tate Bear. He also had six rebounds. Didier Ngambo also played strong defense against Bear, getting three steals and a blocked shot in roughly three minutes of play late in the first half.

Marcus Johnson had nine points and eight rebounds off the bench, and he added four assists and a pair of steals.

Bay led, 41-25, at halftime, and put the game away with an 18-3 run to start the second half, powered by a Joe Gibbs steal and dunk, and two triples by Wagner.

The Norse shot 32-of-71 from the floor (45 percent) and made 12-of-30 three-point attempts. UTTC made 18 of 53 shots (34 percent) and 7-of-27 from downtown (26 percent).

The Thunderbirds finished their season with a 4-19 record. They were led by center Nick Valencia's 18 points and nine rebounds. Bear and Khalil Grant both had 14 points.

Bay (9-14) will play Rochester Community and Technical College out of Minnesota in the regional championship game on Sunday. RCTC (11-5) rallied from ten points down in the second half in the other semifinal to beat Dakota College-Bottineau (N.D.), 89-79.

Sunday's championship game at 3:00 ET will be broadcast live on Maverick 106.3 FM and on-line at www.radioresultsnetwork.com.