OH, SO CLOSE: Norse Lose Nailbiter In Title Game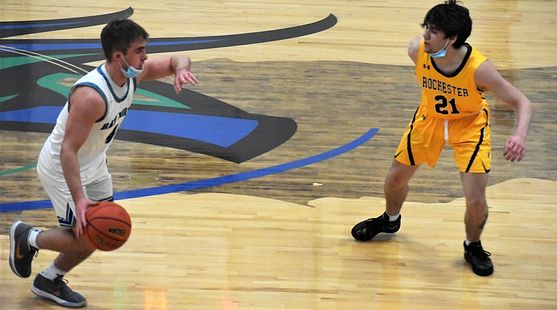 Click the thumbnails to see pictures and videos and hear post-game comments from both coaches. Also listen to Jaden Janke's halftime interview.

ESCANABA--- The Bay College Norse and UCLA Bruins are both saying the same exact thing.

"What if?"

UCLA lost on a half-curt shot to have its season abrutply end with a loss to Gonzaga on Saturday. And less than 24 hours later, the Norse had their season end in the NJCAA Region 13 championship game with an equally heartbreaking 66-65 loss to Rochester Community & Technical College (Minn.) on Easter Sunday.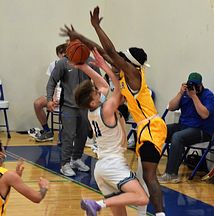 The Norse endured a seven-minute stretch with only one basket early in the second half, rallied to take the lead, but as they tried to win the school's first-ever chanpionship in the final second, a turnover sent the ball sailing out of bounds.

What if.

What if the guys built on their 43-38 halftime lead instead of having it go away from them during a 12-2 RCTC run that flipped the score? What if Matt Wagner shot the ball the way he did Saturday in the semifinals? What if the RCTC role players didn't come in and constantly contribute to the Yellow Jacket cause?

And yes, on that final play, what if Chris Dobessi does not stumble on his way to the basket, and what if he would've finished with a bucket the way he did moments before to bring his team to within one point?

Well, it would have been a happy night in Escanaba. But as it stands, it will be Rochester Tech hosting the National District Championship game next Saturday against Southeastern Nebraska after the Yellowjackets pulled out a nailbiter over the Norse for the second time.

"What a bunch of ebbs and flows," longtime RCTC head coach Brian LaPlante said. "About every three minutes, it was different. I just didn't think we came out with good enough intensity in the first half and I thought Matt's team beat us up in that first half. But we made some adjustments. I thought our kids responded well. We did turn it over a few times in bad spots but we made enough plays. We're really thankful and grateful that we came out of here with a win."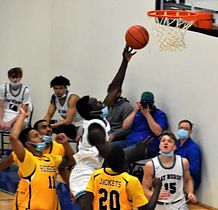 "We were 9-of-31 from the field in the second half," Bay College Coach Matt Johnson said. "If we're 10-of-31 we win the ballgame. It seemed like every time we broke down on the defensive end, they made a shot and we couldn't buy a bucket to save our lives in the second half. Hats off to Brian and those guys. We knew they were going to play hard and compete, and they just made more plays down the stretch than we did."

It was, indeed, a game of runs. Joe Gibbs was on fire early for the Norse as he scored ten points and Bay grabbed a 20-12 lead. But RCTC rebounded with a 13-1 run to take a 25-21 lead before Marcus Johnson righted the ship with a triple to make it 25-24.

Dobessi had an "and-one" basket and Johnson knocked down another one and then Wagner drained a triple and the Norse had the lead at halftime, 43-38.

But RCTC's Jerome Cunningham, who was named the Region 13 Most Valuable Player, went to work in the second half, scoring 15 of his game-high 19 points in the final 20 minutes. He had plenty of help, as Elijah Flenorl knocked down a triple to give RCTC a 44-43 lead.

Devyn Frye went to the hoop after a Norse miss at the other end, and all of a sudden, it was a 52-45 Yellow Jacket lead. The Norse came back, though, as Jaden Janke, playing with a plastuc mask to protect a broken nose, went inside for a bucket, and Johnson nailed a wide-open triple from the corner to make it a 52-50 game.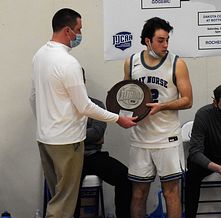 Tyler Sundling came off the bench for an "and one" bucket to put Bay in front, 55-54, with 9:03 to play, and the game went back-and-forth literally to the end.

Cunningham's old-fashioned three point play put RCTC ahead 59-56, but the Norse came back with Wagner scoring inside and Johnson taking one to the glass, making it 60-59 Bay with 6:21 left. After RCTC took the lead, Janke scored again on a putback to make it 62-61, before Cunningham answered again to put RCTC on top, 63-62.

Dobessi, who was on the bench with four fouls for most of the second half, brought the Norse to within one with a free throw before Frye made a turn-around jumper in the paint to give RCTC a 66-63 lead with 57.7 seconds left.

Dobessi answered with a driving layup to make it 66-65 with 48.2 seconds left. The Norse played strong defense for 30 seconds as RCTC ran out of shot clock without getting a good look. Bay brought the ball up the floor, and the Jackets had a foul to give, so they committed it with 9.7 seconds left on the clock.

After a time out, Coach Johnson drew up a play.

"We were supposed to dribble-enter to the other wing and try to get the ball into Jaden on the post," he said. "We never got the ball through the top of the key. We just to attack at that point. Things just broke down and Chris had to go and got tripped up a little bit, and we threw the ball away."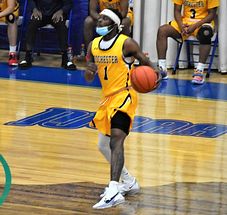 Dobessi turned the ball over with 0.8 seconds left, and the Yellow Jackets lobbed a long pass up court to eat up the final fraction.

"Our younger kids, and our first-year kids have really come a long ways in the last month," LaPlante said. "That's the reason we're hoisting the trophy.It's very satisfying for me because I know what I've tried to do with our program, trying to raise it to a national level. It will be a fun week. Hopefully we can rise to the challenge and do it one more time."

RCTC (12-5) got 13 points from Keivonte Watts and ten from Quincy Burland off the bench to go along with Cunningham's 19 points.

For the Norse, the season ended in heartbreak, with a 9-15 record.

"I told them I loved them," Coach Johnson said of his post-game conversation in the locker room. "I thanked them. In 15 years of doing this, this year has been the most difficult without a doubt. The stuff that these kids have had to deal with, COVID, on-line classes, not knowing if we're playing, and changing rules and regulations as we gio. COVID testing three times a week. It's been an absolute nightmare for these guys. I can't thank them enough for what they've done."
Janke and Johnson both scored 12 points for the Norse while Gibbs and Dobessi each contributed ten points. Janke also led the Norse with seven rebounds.