Kingsford, Norway Majors; Gladstone 9-10 Advance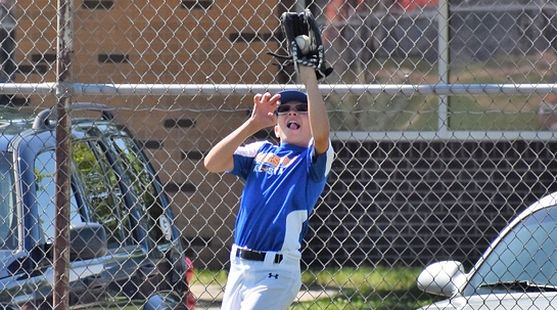 ESCANABA---The Kingsford and Norway Major Little League All-Stars (age 11-12) earned victories over their Delta County rivals in tournament action on Saturday, while the Gladstone Minor Boys (age 9-10) rallied from 12 runs down in the final two innings to stay alive in their tournament. All three games were played at Escanaba's Karl Dickson Field.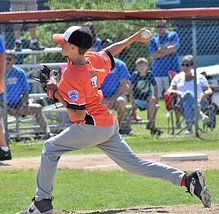 KINGSFORD MAJORS 2 ESCANABA 0---

In one of the most well-played games you'll see, the two teams needed only one hour to play six innings of intense baseball that was characterized by strong pitching and good defense.

It was a rematch of the 9-10 boys district finals from 2019, when Escanaba beat Kingsford in the first match-up only to lose twice in the championship round in walk-off fashion.

On Saturday, Escanaba's Brody Ison matched Kingsford's Mason Koski pitch-for-pitch and the game was scoreless entering the fourth inning.

In the fourth inning, though, Kingsford got their first hit from Jonah Donier and took advantage of an infield error to keep the inning going. Then Cooper Kreski came through with a two-run single to center field to give Kingsford the 2-0 lead.

Bradley Steber came on to pitch in the fourth inning after Koski reached 35 pitches and he kept Escanaba scoreless. But it wasn't easy in the sixth inning when Cale Schroeder led off with a bunt single, and with two out, Willie Derkos smoked a double to the left field fence.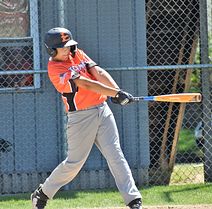 Escanaba had just one base hit in the game before that sixth inning (a leadoff single by Brandon Juntilla in the first inning). But the two hits in the final inning gave the Orange and Black a chance with runners at second and third.

Mikaiden Hughes hit a hot shot to short, and the ball was fielded cleanly. The throw to first pulled Donier off the bag, but the umpire ruled that he got his foot back on the bag a split second before Hughes' foot touched the base. Escanaba appealed, but the call stood.

Kingsford had just two base hits in the game against Ison, but got one at the right moment. and now the Maize and Blue are in the drivers seat.

They still have not allowed a run in the tournament and will have its pitchers available to wrap it up Monday night.

Escanaba has to play Norway on Sunday and the winner of that game will need to beat Kingsford twice on Monday to earn a trip to the state finals in Grosse Pointe.

Sunday's Escanaba-Norway game starts at 1 ET/12 CT in Escanaba. The game will be broadcast on FM-93.5/AM-600 in Escanaba and AM-1450 in Norway. Also on-line at www.rrnsports.com.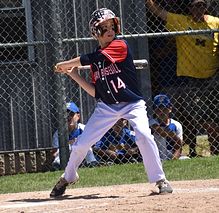 NORWAY MAJORS 7, GLADSTONE 1---

Norway scored three runs in the bottom of the fourth inning and four more in the bottom of the fifth to erase a 1-0 deficit and eliminate Gladstone from the tournament.

Gladstone had taken that 1-0 lead in the second inning on an outfield error and three passed balls, but they coouldn't get much going against Norway pitchers Kaleb Lapine and Kaden Malone.

Lapine threw the first two innings, allowing that unearned run, and Malone threw the final four innings to earn the win.

Gladstone had only two base hits: a single by Xavier Leipzig in the second inning and a hit by Nate Beauchamp in the fifth inning.

Norway scored three runs in the bottom of the fourth inning to take the lead. And the runs happened after an error that should have ended the inning. Tobi Anderson's RBI single tied the game, then Kellen Amundson smacked a two-run single to make it 3-1.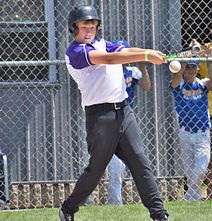 They added four runs in the fifth inning to put the game out of reach, with Malone's double bringing in two of them.

Vinny Rebholz took the loss for Gladstone, throwing 4 1/3 innings, allowing all seven runs (four earned) on six hits. Henry Scholten finished up by throwing 2/3 inning.

Norway stayed alive to face Escanaba on Sunday. The game starts at 1 ET/12 CT in Escanaba.

The game will be broadcast on FM-93.5/AM-600 in Escanaba and AM-1450 in Norway. Also on-line at www.rrnsports.com.


GLADSTONE 9-10 BOYS 19, TRI-COUNTY 18---

It was another wild game between these two teams, who played a 3-hour-20 minute marathon on Thursday with Gladstone winning on a walk-off base hit in the bottom of the sixth inning. On Saturday, history repreated itself as the teams played for 3 hours, 8 minutes, and Gladstone rallied from twelve runs down to win by the exact same score they won by two days before.

Jackson Lancour struck out five batters in the first two innings for Gladstone, and other than a double off the bat of Jerry Kulick, he kept the Tri-County team off the board. Lancour was removed after throwing 35 pitches to keep him eligible to pitch in the district finals on Monday. But Monday almost didn't come for Gladstone.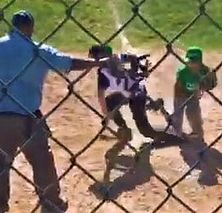 Tri-County t0ok a 6-4 lead in the top of the fourth inning on a three-run bases loaded double by Jackson Klyk. Gladstone got a run back in the bottom of the inning, but when the fifth inning started, it was a walkathon that saw the game slow to a crawl.

In the top of the fifth, Gladstone pitchers walked 13 batters. Yep, 13 batters in one inning. There was one base hit (by Kulick, his second of the game) and one error. Eleven runs scored for Tri-County and they had a 17-5 lead going to the bottom of the fifth inning.

Tri-County starting pitcher Klyk went 3 2/3 innings before reaching his 75-pitch count limit. He did reasonably well, walking four batters and giving up three hits, striking out eight batters. Six of those eight strikeouts by Klyk were called third strikes.

But none of the four pitchers Tri-County used could throw strikes any better than the trio of pitchers Gladstone Manager Amber Quigley used.

Gladstone was going to lose on the mercy rule but six walks brought in five runs, and Aiden Smith got his third hit of the game to bring in another run. Brenden Deurson punched a triple to right field but was thrown out trying to stretch it into a home run.


Tri-County scored one run in the top of the sixth on base hits by Clay Peterson and Josh Worth, plus two walks. But Gladstone pitcher Colton Breitzman recovered to get a pair of strikeouts, leaving the bases loaded and his team within five at 18-13.

Gladstone scored six runs in the bottom of the sixth inning with no base hits. There were five walks, an error at first base, a hit batter, and multiple wild pitches.

The tying and winning runs scored on wild pitches after Tri-County Manager Carl Brunngraeber tried three different pitchers in the inning to try to get those final three outs.

Gladstone will play Norway Monday night at Marion Park. Norway beat Iron Mountain, 11-1, on Saturday. The game will start at 5:30 ET/4:30 CT. The second game Monday night features Escanaba against Kingsford The state tournament will be held in Norway this month.

DISTRICT ELEVEN CHAMPIONS PHOTOS BELOW:

NEGAUNEE JUNIOR BOYS (AGE 13-14)

HOUGHTON PORTAGE LAKE MAJOR BOYS (AGE 11-12)