Escanaba Boys Drop State Tournament Opener 5-2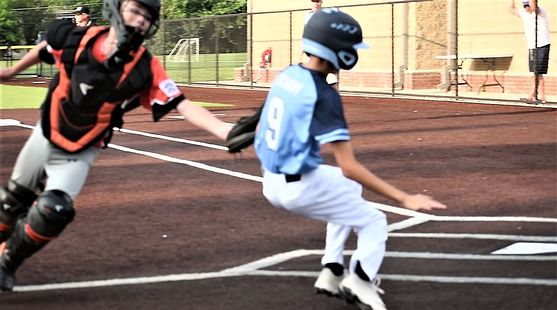 Click the thumbnails to see photos and videos

GROSSE POINTE, Mich.---A last-minute comeback attempt came up short for the Escanaba Major Little League All-Stars (age 11-12) at the state tournament in Grosse Pointe on Saturday. Bay City Southwest built a 5-0 lead and went on for a 5-2 win on the artificial turf at University Liggett High School.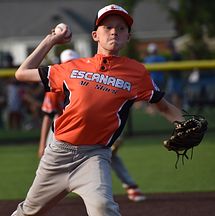 The tournament was moved to this multi-million dollar complex after heavy rains made the Grosse Pointe Farms/City fields unplayable, and tournament hosts Michigan District Six paid the Liggett school to serve as the site.

The 16-team tournament will continue on those dirtless fields on Sunday.

Saturday's Escanaba-Bay City game was delayed by nearly an hour, not by rain, but by a marathon game between Muskegon Roosevelt Park and Kalazmazoo South Portage. Roosevelt Park won that game, 28-12, after missing out on a chance to end the game on the mercy rule twice.

Escanaba came out with a case of the jitters as Southwest scored a run on a double by Daniel Fournier after an error at third base kept the inning going. Earlier in that inning, pitcher Brody Ison hit the first man he faced, but catcher Mikaiden Hughes gunned him trying to steal second.

Escanaba wiggled off the hook in the second inning when an infield and walk put two men on but Joey Garcia, on for Ison after he reached 35 pitches, struck out Nolan Kochany to end the inning.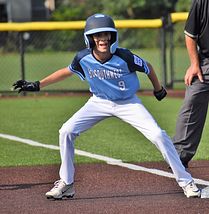 But in the third inning, a pop fly by Fournier landed when the second baeman and two outfielders couldn't decide who would catch it. There was a hit batter on board as well, and they both scored on a pop fly by Brady LaRue that landed in the outfield with two out.

In the bottom of the third, Escanaba finally got a base runner against Bay City pitcher Brayden Hitts when Garcia drew a lead-off walk. He eventually tried to score from third base on a wild pitch, but Hitts got to it and after missing the tag, threw to LaRue at the plate. He didn't miss.

Bay City added a run in the fourth inning when Hitts smacked one over the head of the left fielder (who took that dreaded first step in and couldn't get back in time for the catch). Escanaba did manage to get Hitts as he tried to go to third base.

In the bottom of the fourth, Tim Robitaille came off the bench to get a one-out single, and with two out, Lincoln Bradfield came off the bench and was safe on an bobble by the third baseman. Alex Ison, however, popped one up foul that LaRue made a nice catch on to end the inning.

Garcia reached his 50th pitch and was removed for Zahn Anderson, who retired all four men he faced. As for Bay City, Hitts was removed after four innins, and his replacement Cooper Jones, quickly retired Escanaba 1-2-3 in the bottom of the fifth inning.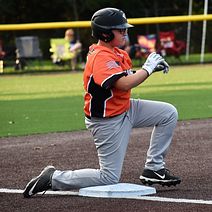 Bay City added an incurance run in the top of the sixth inning when Kochany smoked his third hit of the game to center field. Center fielder Nick Martinson came up thorwing, and fired it to Hughes at the plate, who made a great sweep tag on the second would-be run-scorer.

Escanaba's last chance came with some drama in the bottom of the sixth inning. Andrew Juntilla beat out a bunt single, and with one out, Willie Derkos was safe on a wild pitch on a third strike. Brody Ison scored on a wild pitch, and Griffin Johnson punched one past the third baseman into left field for an RBI single to make it 5-2.

Both Derkos and Johnson pulled off a double steal to go to second and third, and Garcia worked the count to 2-2 against the third BCSW pitcher (Kochany) before taking a called third strike to end the ballgame.

Bay City ended up with ten base hits. Escanaba was limited to three.

Escanaba will face Muskegon Roosevelt Park on Sunday at 12:15. The game will be broadcast on WCHT-FM (93.5), WCHT-AM (NewsTalk 600) and on-line at www.rrnsports.com.

Bay City will face Kalamazoo South Portage on Sunday.

OTHER YOOPERS IN ACTION---The District Eleven Champions, Houghton Portage Lake, had bettter success on Saturday, beating Edwardsburg, 3-0. Portage Lake still has not allowed a run in the post-season after going through the whole district tournament unscored on.