Late Rally Falls Short For Escanaba Major All-Stars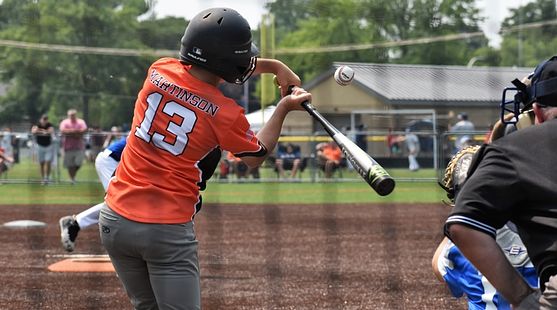 Click the thumbnails to see photos and video highlights

GROSSE POINTE, Mich.---The Escanaba Major League All-Stars (age 11-12) ran out of comebacks this weekend as the state tournament run in suburban Detroit is coming to an end.

The Escanaba team that came from the loser's bracket to pull out three emotional district tournament victories could not do a repeat performance in the state tournament on the artifical turf of University Liggett High School in the Detroit suburb of Grosse Pointe.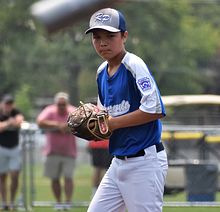 The Eskymos fell behind in the first inning on Sunday against Muskegon Roosevelt Park and mounted a last-minute comeback in the sixth inning that fell a run short in a 5-4 loss.
Nick Martinson struck out on a 2-2 pitch with the bases loaded to end the game, and end Escanaba's chances at a state cahmpionship, and even farther down the road, a World Series dream trip to Williamsport.

Roosevelt Park got a great performance from Dexter Lillmars, who drove in all five of his teams runs by going 3-for-3 at the plate. And he went 5 1/3 innings on the miniature temporary mound that was placed on this field as the tournament was moved from Grosse Pointe Lttle League when Kirby Park was flooded Friday.

Escanaba committed two errors in the first inning. One on a grounder to shortstop and the other, a dropped fly ball in left field. Escanaba pitcher Willie Derkos tried to pitch out of it, bit Lillmars made the District Ten champions pay with a two-run single.

Escanaba got a run back in the third inning when Andrew Juntilla led off with an infield single and Griffin Johnson smacked a base hit to center. He raced around to third base for a triple.
Roosevelt Park got that run back in the bottom of the inning when Owen Tornga led off with a hit, stole second, and on that steal, went to third on an error. Tornga scored on Lillmars' second base hit of the game.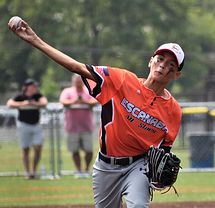 Escanaba closed to within 3-2 in the fourth inning when Mikaiden Hughes continued his hot hitting with a rocket to right-center field. With one out, Joey Garcia singled him home, and Garcia went to second on the throw. But Garcia was thrown out trying to steal third base.

Sure enough, Tim Robitaille ripped a double to right field, which would have scored the tying run. Derkos grounded out and Robitaille was stranded in scoring position.

Derkos got a 1-2-3 inning in the fourth inning, and in the fifth, he allowed two base hits but got two outs. With two strikes on Lillmars, Lillmars poked a base hit to right field, bringing home a run...and an error on the throw to the plate brought in a second run.

That fourth error of the game against the Escanaba defense would prove the most costly.

Escanaba didn't give up. With one out in the sixth inning, Hughes smoked a triple for his second hit of the game. Zahn Anderson's ground ball was missplayed at short (the only Muskegon error of the day) and Escanaba was within 5-3 when Hughes scored.

Robitaille followed with a two-out double (his second double in a row) and Derkos drew a walk. That loaded the bases and relief pitcher Tornga also walked Juntilla to force in the fourth Eskymo run.
After a conference on the mound, Tornga got ahead of Martinson 0-2, but Martinson fouled off a pitch and worked the count to 2-2. He swung and missed at the next pitch, ending the game.
It sent Roosevelt Park into the quarterfinals and eliminated Escanaba, because Bay City Southwest later mercied Kalamazoo South Portage, 15-0.

Derkos pitched a complete game for Escanaba, allowing five runs (only two earned) on seven hits. He struck out six and walked just one batter.

Lillmars got the win, allowing nine hits, three runs, and no walks in 5 1/3 innings. Tornga earned a shaky save, giving up one run on one hit and two walks. But he did get those final two outs.

Escanaba had ten base hits, with Juntilla, Hughes, and Robitaille all getting two apiece.
All that's left now for the Escanaba boys is a final pool game on Monday against Kalamazoo South Portage. It will be a "play for pride" contest with both teams at 0-2 and neither being able to advance. The game will start at 12:15 on Monday and it will be played at the now dried-out Kirby Park.
OTHER YOOPERS WIN AGAIN---
The situation is much dfferent for the Houghton Portage Lake Major Boys. They won another game on Sunday, beating the host Grosse Pointe Farms/City team, 7-2, at University Liggett. Coupled with the boys' 3-0 win on Saturday aganst Edwardsburg, Portage Lake will make the quarterfinals no matter how they do in Monday's final pool play game. Good luck to the Copper Country boys!