Escanaba 9-10 Girls Win Twice; Quarterfinals Next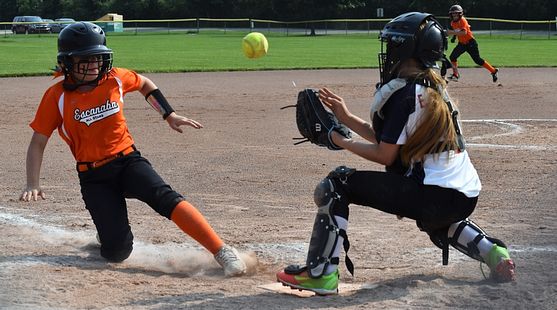 Click the thumbnails to see photos and videos

ROCHESTER HILLS, Mich.---The Escanaba Minor Little League All-Star (age 9-10) softball team won two games on Sunday to advance to the quarterfinals of the state tournament in the Detroit suburb of Rochester Hills.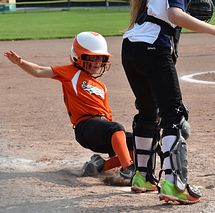 Escanaba beat Three Rivers from southwest Michigan's District 15, 8-4, and then rolled over Big Rapids from District 12, 19-1, in a game that was mercied after two-and-a-half innings.

The doubleheader on Sunday was needed after heavy rains flooded the Rochester Hills Little League Fields on Friday and early Saturday, allowing no games on Friday and just one on Saturday. Escanaba bounced back from a 6-0 loss on Saturday to Midland Bullock Creek.

On Sunday, Emma Parlato bounced back from a nervous game the day before to strike out 16 Three Rivers batters, meaning only two outs were recorded in the field.

The girls had to wait around for several hours to play their second game, which started 80 minutes after its 3:00 scheduled start time because of a marathon game between Grosse Pointe and Cheboygan being played before them on the RHLL Field #2.

Once they got on the field, the Escanaba girls had no trouble with the BIg Rapids team, who's pitcher, Olivia Clark, struggled to throw strikes. She walked 14 batters in two innings, and threw multiple pitches in the dirt that ended up on the backstop.
Clark did have Big Rapids' only hit, a hot shot up the middle into center field. She scored on a wild pitch.

Escanaba added six base hits, along with aggressive baserunning. Abby Derkos smacked an RBI double to center field in the second inning, while Mara Anderon had an RBI double of her own later that inning.

Anderson and Derkos both had two base hits. Parlato added a double and Kinsley Williams contributed a single.

Becca Noblet pitched all three innings for the Escanaba win.
Escanaba plays in the state quarterfinals on Monday against St. Clair. Game time is 11:30 and you can hear the broadcast on WCHT-FM (93.5), WCHT-AM (600) and on-line at www.rrnsports.com.